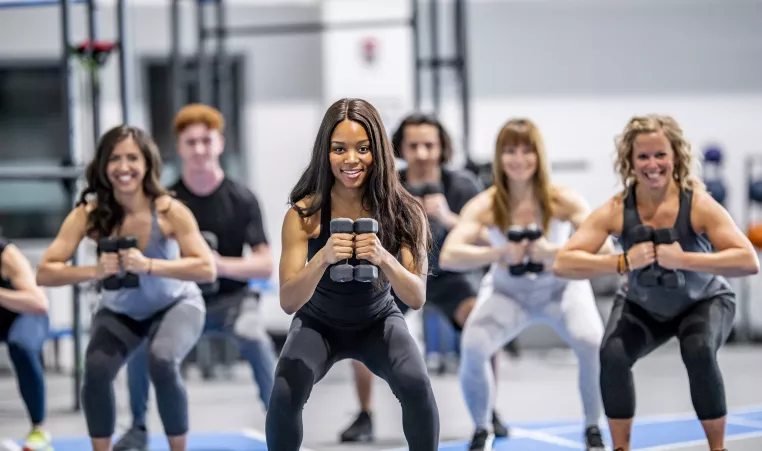 REFRAMING NEW YEAR'S RESOLUTIONS FOR SUCCESS
As you change your calendar from December to January, there's always a thrill in the promise of a New Year that's full of potential. The New Year is a chance to start fresh and say goodbye to any of the previous frustrations—a perfect opportunity to set goals that will help strengthen your spirit, mind and body.
Setting Yourself Up for Success
Many of us find our resolutions thrown out along with the holiday decorations. It's no wonder—starting the New Year by making declarations that we're going on a drastic diet or will hit the gym every day doesn't exactly set us up for success!
While choosing a resolution is easy, sticking to it can be HARD. A 2014 YMCA survey found that less than a quarter of respondents kept their resolutions. Many (71 percent) tried, but fell short of their goals, while 40 percent confessed that they gave up within the first few months, even weeks, of the New Year!
By reframing resolutions in a positive way and breaking them down into smaller, easy-to-sustain goals, you'll see big benefits in the long run. For example, you may want to limit your junk food intake in 2021, but that can be more manageable if you replace it with something positive like meeting (virtually or in person) with friends to prepare a variety of healthy snacks together.
It's important to not let yourself get discouraged by setbacks. Even though you may experience some missteps throughout the day—or even the week—that doesn't mean you have to give up. Habits won't change in just a week.
As a community-serving organization, the Y knows making lifestyle changes and helping others will impact your life and someone else's life for the better.
Here are some simple ways to help your 2021 New Year's resolutions stick:
Start small. Break those big resolutions into small, achievable goals. Instead of cutting chocolate out of your diet for good, vow to only have it a few times a week. Or trade your two sodas a day for one soda and a glass of water.
Take it one step at a time. Trying to change too many habits at once can easily lead to frustration. Instead of a New Year's resolution, make a New Month's Resolution. Focus on that one change for the month, and add another small change when the new month rolls around.
Move more. It's important for adults to get at least 30 minutes of physical activity each day (60 minutes for children). Incorporate physical activity into your daily routines and spend more time walking to places instead of driving to improve your health and well-being.
Find a fitness friend or group. When it comes to adding healthy behaviors, like increasing physical activity, it can be helpful to find a team of supporters. One great way is to attend group exercise classes, which automatically connects you with a group of other people who are also committed to moving and getting healthier. The Y offers  variety of exercise classes, which you can check out here.
Talk it out. It's easier to stick to your resolutions if you have someone helping your toward those goals. Team up with a personal trainer to set your 2021 goals and help you establish a game plan dedicated to achieving them. Set specific check-ins to help each other out of slumps and to cheer each other during the high points. Learn more about the Y's personal training programs.
Make family time a priority. With work, school, and activities family time may seem like an impossible ask, but see if your family can have a "screen-free" night with no phones, video games, etc. Instead, use that time to play a board game, play outside or visit with family and friends.
For additional tips or to learn more about how to stick to your resolutions or get involved with the YMCA, contact our membership team or visit our membership page.
A version of this blog originally appeared on First Coast YMCA and YMCA of Middle Tennessee's websites.