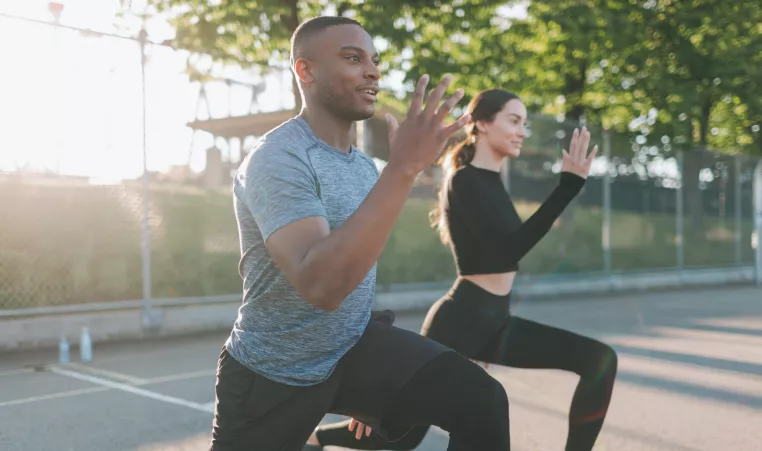 Summer is upon us and it is the perfect time to get active outdoors! Cardio and strength machines inside a gym or fitness facility can provide many benefits, but changing the routine and environment can teach your body how to adapt to different surfaces and surroundings. Outdoor exercise gives you the opportunity to add a twist to your workout routine and connect with nature. It is also a great excuse to have some family time. 
With great weather and the right motivation, the ways you can move your body outdoors are endless but here are some ideas of activities and exercises you can practice outdoors. 
Yoga:

Yoga is known for being a practice that comes with many benefits not only in physical health, but also in mental health too. It is proven to relieve stress and improve sleep and balance. According to the

NCCIH (National Center for Complementary and Integrative Health)

, yoga can also help people manage anxiety or depressive symptoms associated with difficult life situations, and people with chronic diseases manage their symptoms and improve their quality of life.
Being an activity that mainly uses your own body weight, yoga is a good alternative to strengthen your body anywhere. Look for a park or a place by a lake and you've just found your perfect yoga spot. 
The YMCA of Greensboro is often offering outdoor yoga classes for its members and community guests. Check out our Y in the community schedule to find the next yoga class near you.
Circuit Training:

Get your dose of vitamin D by taking some exercises outdoors! Using stairs, bench, steps or even just your body, you can easily complete a full-body workout outside. Select from 3-5 exercises and repeat them 10-15 times each for a set. Repeat each set of exercises 3-4 times and you will be sweating and getting your workout of the day in!
Some exercises that can easily be done outdoors are squats, lunges, planks, mountain climbers, high kicks, and more.
Feeling more motivated with other people around? Invite a friend or join a Y group exercise class. There are many classes offered outdoors and with a personal trainer to guide you. Check out our group exercise classes to find the perfect one for you!
Hiking:

Breathe some fresh air and watch the most relaxing views while moving your body by hiking. The

NPS (National Park Service)

recommends this activity for its many benefits in physical, mental, and even relational health. 
From building stronger muscles and bones to improving your sense of balance and decreasing the risk of certain respiratory problems, hiking is one of the best ways to exercise outdoors. Invite a friend or family member to join and make this a way to connect. Often this activity can take a few hours, making it the perfect time to strengthen a relationship.
Visit the NPS website to discover several parks and hiking trails close to you or across the country and plan out your next hiking experience.
Whether you choose yoga, circuit training or a hike. Choose your favorite outdoor activity and move your body outside summer!
Published: May 23, 2022