Reward Your Effort with Myzone 
Myzone is the most accurate and versatile fitness tracker on the market. Don't just take our word for it — hear from one of our members who uses Myzone daily!
Using technology to provide real-time feedback on heart rate, calories, and effort, Myzone ensures that you get accurate feedback on all of your exercise, wherever and however you choose to train. 
Achieve your health and fitness goals, with motivational support from friends through our Myzone social network, and utilize our unique Myzone Effort Points (MEPs) system to earn the credit you deserve.
Myzone class workouts are available at the following locations:
Scroll to the bottom of the page to see all of the Myzone class workouts. 
How do I get a Myzone Belt?
You can purchase a Myzone heart rate monitor for $85 at the member services desk at any of the locations listed above.
Loaner belts are available one time per member for Myzone group workouts. If you need to use a loaner belt, please arrive at least 15 minutes early.
Myzone is an innovative wearable heart rate-based system that uses wireless and cloud-based technology to accurately and conveniently monitor physical activity. It delivers a fully connected solution for the Y. It is successful due to its accuracy at 99.4%. It is the tool for anyone who wants an accurate, gamified and motivating wearable. Myzone monitors heart rate, calories and time exercising in real-time and converts that into Myzone Effort Points (MEPs). MEPs focus on rewarding effort rather than fitness. 

Myzone's innovative heart rate belt straps to your chest, are or wrist, which then wirelessly transmits real-time heart rate stats to an app on your phone AND to a television display on the wall of your group exercise class. You can also view your zones, challenge friends, review your activity, connect with friends, view your calories and effort in real time, achieve Myzone Status ranking and more through the Myzone app.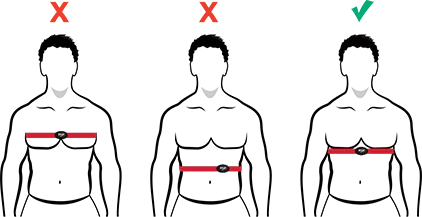 This one is a pretty short answer—everyone can use it! Because your workout is guided by your own heart rate, workouts that use Myzone technology are a great fit for all fitness levels.
Your belt conveniently displays key heart rate metrics, with color-coded "zones" and percentages of max heart rate. These colors/zones help you push yourself into max effort and recovery throughout your workout, resulting in a high-calorie burn, even AFTER your workout is over!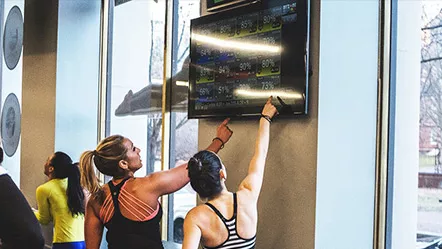 How is it different than other wearable technology?
Unlike many other activity trackers, Myzone is the only fitness tracking app based on the WHO's Physical Activity Guidelines. It uses a game-based platform and social experience that rewards effort not fitness, motivating users to reach their personal bests. Reach your personal bests by earning MEPs for virtually any activity, including running, cycling, rowing and HIIT.
How is the Y using Myzone?
You can find Myzone technology in group classes at the locations mentioned above! Myzone is also the heart rate monitoring technology that is used in HIIT classes at the Y. Of course, you can use your Myzone belt whenever to track your activity by using the Myzone app! Earn Myzone Effort Points (MEPs) for any activity you do by using the Myzone app — keep up with your workout buddies!