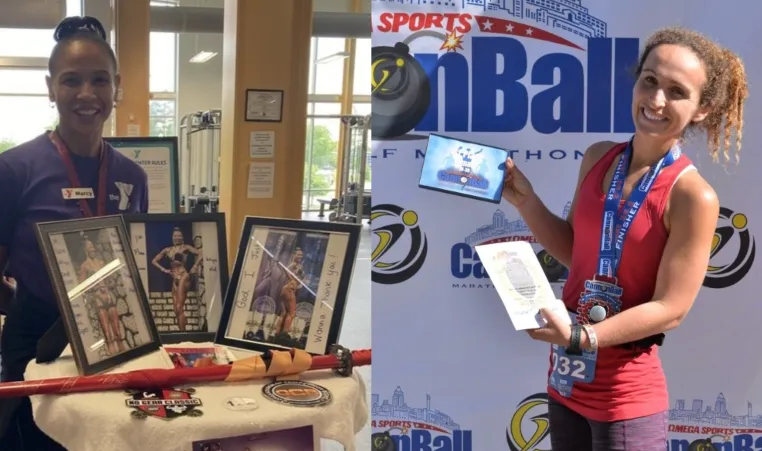 Wellness journeys often have a profound impact on people's lives, pushing them to make positive changes and overcome personal obstacles. Many of our Y staff have experienced their own wellness journeys that most of the time result in them having a passion to guide and help others succeed on their own journeys. Here are the wellness stories of two of our staff, Marcy Welch and Meredith Knowlton Dennis.
Marcy, Hayes-Taylor Y wellness director, started her wellness journey at 28 years old when her family's concern about her health sparked in her the need to become healthier and stronger. She was determined to transform herself physically and mentally. "I began to workout and eat as healthy as I could. I was a single mother raising two children and their needs always, always came before mine," said Marcy. Starting a healthier lifestyle came with many challenges. But despite facing financial constraints, Marcy found creative ways to exercise. "Eating healthy was expensive even back then and more so today. I began just working out at home using cans of food for weights, and milk jugs filled with water for heavier weights," explains Marcy. Marcy began to notice not only changes in her weight but in her overall health.
Marcy's discipline and dedication required to maintain a healthy lifestyle were reflected in other areas of her life, boosting her confidence, self-esteem and having a better relationship with her children. "I competed for the first time when I was 40 years old and I won first place – I had my children sitting in the front row of course! They are very proud of me and come to as many shows as they can," explains Marcy. With a healthy body and strong mindset, Marcy's journey is far from over. She is now preparing to compete for the 21st time in the Carolina NPC, a bodybuilding competition. These accomplishments reinforce our belief that age should never be a barrier to pursuing one's goals.
Meredith has always been active since childhood and has gained more passions along the way, like running. "I've been more serious about running since around 2009, which is also the year I started teaching Group Exercise," said Meredith. She also incorporates healthy eating to ensure she is taking care of her health as a whole but never misses on eating things she enjoys. "I enjoy eating a healthy diet, but also live by the motto of 'everything in moderation,'" said Meredith. 
Staying motivated is not always easy. So, when we asked Meredith what is her main motivator and advice to those who might get discouraged along the way, she answered that her main motivation is how exercise and a healthy diet makes her feel. "I feel healthy and happy from the inside out when I'm active. My muscles feel better when they are being used and I sleep better at night. I feel motivated when I know that I'm bringing the best version of me to the table...some days may be higher intensity and other days may be more stretch and breathing focused. Always listen to where your body is at that current moment," answered Meredith. 
Meredith's career at the Y started as a 15-year-old soccer referee and now has grown into serving at our Reidsville YMCA branch as the Wellness Director for 4 years, but has been a full-time employee at the Y for ten years. 
Marcy's and Meredith's journeys are different but one thing that is the same is that their lives have been completely transformed throughout their wellness journeys. They are both an inspiration to others, through experiencing the incredible power of self-belief and determination. To anyone who may be facing their own challenges or feeling discouraged, we want to emphasize that you are capable of achieving great things – you never know the impact you can have on others along the way!
You can also transform your passion into your career, and help others along the way! Visit our careers page to apply.
 Published on July 17, 2023