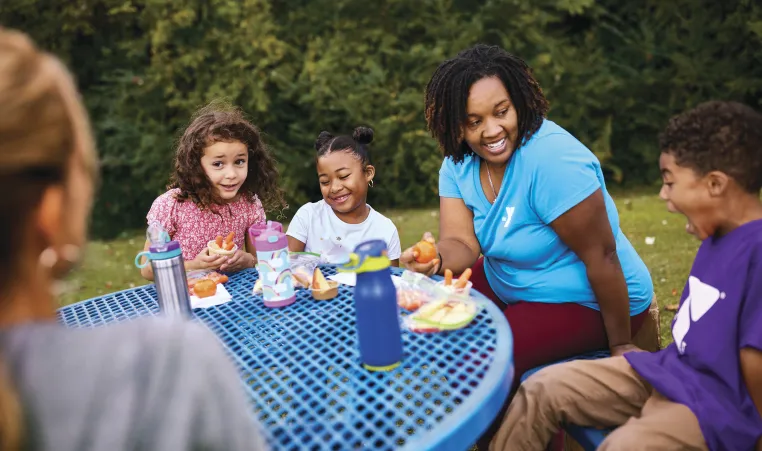 The YMCA is not only a place to becoming a healthier you, but it also is a place that serves, builds and supports its community. It provides individuals, families, senior citizens, and children with the opportunity to participate in programs and services that the Y has to offer regardless of financial ability. This is all thanks to supporters and donors who give their time, treasures and talents to the YMCA of Greensboro Annual Campaign.
Every year, the YMCA of Greensboro raises funds to provide access to services and programs that strengthen our community. Throughout the years we have witnessed how the financial assistance provided through our Annual Campaign has changed the lives of thousands of people. It can help a child find their passion by providing access to play a sport or attend summer camp. It can help a senior citizen find their connection with others and stay active. It can help an individual become their healthiest self. It can even help a family facing financial difficulties get back on their feet while still maintaining a healthy lifestyle. We can say all of these wonderful things but don't hear it from us — hear it from a couple financial assistance recipients from our community. 
"With this (financial) assistance, it will allow my daughter to continue her soccer journey. She's been playing since she was 3 and has come so far in her skills. With the price of everything going up with no relief, this will allow us to be able to have her play this season without worrying about which bill needs to be put on hold. If this assistance didn't exist, I believe we would more than likely have to sit out this season," said a financial assistance recipient. 
The support from donors makes a significant impact on the lives of many individuals and families within the community. It creates opportunities for individuals to improve their physical and mental health, build self-confidence, and meet new friends. For many, accessing the Y's services and programs wouldn't be possible without this support. 
"Due to living on a limited budget, we would not have been able to join the Y, but thanks to the financial assistance funded by donor support, our family was able to apply for the scholarship program. I am so grateful for the Y's assistance in allowing my kids to grow socially and to become more positive and confident in themselves. Exercise and physical activity at the Y has given us the opportunity to meet and socialize with others and give us a healthy coping strategy to manage our symptoms of depression and anxiety," said a financial assistance recipient. 
We believe that everyone deserves access to the resources they need to thrive and the tools to live a healthier, happier life regardless of an individual's financial situation. 
These two stories are only examples of the thousands of lives touched thanks to our donors' support. Please consider donating to our Annual Campaign and help us make a difference in the lives of those in need – one life at a time!
Published on April 19, 2023