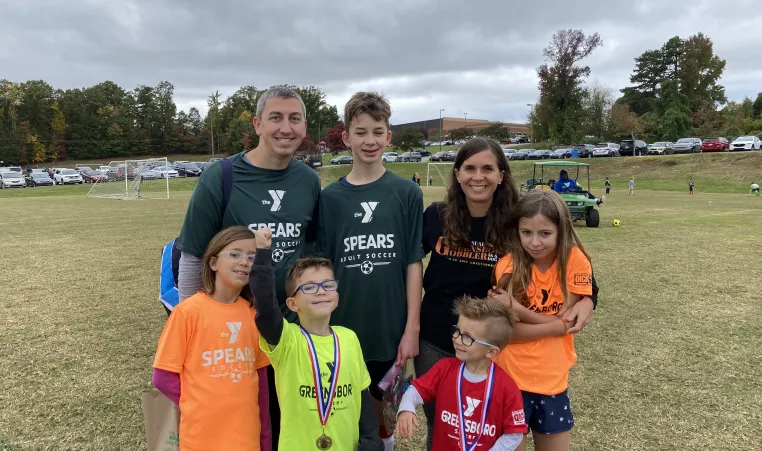 Tell us a little bit about yourself. How long have you been volunteering with the YMCA of Greensboro and why did you choose to volunteer at the Y? 
When we moved to Greensboro 6 years ago, I was very excited to find out that the Y had an adult soccer league that played on Saturdays. I grew up playing soccer and enjoyed playing through junior college but went many years without playing. I started out very out of shape and rusty but continued to play each season it was offered. It has been a great outlet for me, I've lost 20 pounds, and it's been fun for me to develop my skills more and make friends. We love the Y; we were members in Michigan and then Indiana before moving here and my wife will tell you that having somewhere to go where she could work out when she had many small children at home saved her sanity during my medical education. So, we naturally gravitated toward the Y here and signed our 2 oldest up for soccer. I coached my daughter's team that first season and really enjoyed it and wanted to be able to have that experience with my son too so the next year I coached 2 teams. Now that we have 5 kids playing, my wife has started coaching our youngest two so we coach 4 of the 5 teams, which sounds crazy, but it actually makes life easier in the end because we can practice all on the same night. Playing and coaching soccer together at the Y has become a part of our family culture and we look forward to practice nights and games together. We feel very grateful that it's given us the opportunity to get to know so many great people and has really given us a sense of community here in Greensboro.
Do you have a favorite memory from volunteering at the Y? 
Not a specific memory, but I always love when you see things start to click for a player and see how much they've learned and improved by the end of the season.
What would you say to someone who is thinking of volunteering?
Go for it! It's a great way to ensure the kids have a good experience.
To learn more about volunteering and how to get involved at the Y, visit our volunteer page. If you are looking for a job, we are always hiring! Check out our open job positions.