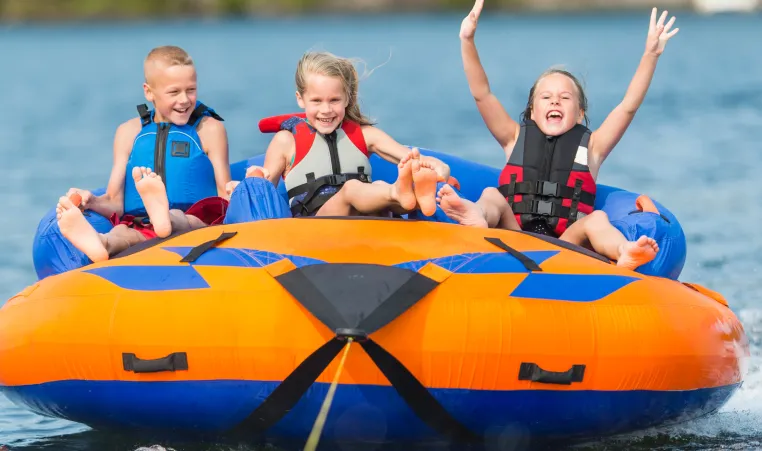 Water is a fun way to cool off during the hot weather, whether it's in swimming pools, lakes, rivers, oceans or other bodies of water. However, to enjoy the water we also need to be aware of the dangers involved and be prepared. According to the American Red Cross, death and injury from drownings happen every day in home pools and hot tubs, at the beach or other open bodies of water. As our way to assist you and your loved ones to continue to safely enjoy being around water, here are five ways to stay safe around water.
Swim in Designated Areas
One of the most important things to consider when swimming is to always swim in designated areas. These areas are typically free from underwater hazards, such as rocks or weeds, and are often monitored by a lifeguard making them the safest place to swim. If you're unsure if an area is designated for swimming, ask a lifeguard.
Know Your Limits
Don't attempt to swim farther than you are capable or stay in the water longer than you should. If you feel tired, it's time to get out of the water and rest. At the same time, you should always be aware of your surroundings and the conditions of the water and weather. If there are strong currents, waves or a lifeguard alerts you of any danger, it's best to stay out of the water altogether. 
Additionally, whether it's bath time or taking a dip in a pool, make sure children are always within arm's reach.
Never Swim Without a Water Watcher
When children are swimming, make sure they are actively supervised at all times. Most importantly, be sure they understand the importance of asking permission before going in or near the water. Water safety is an important skill that children should learn at a young age. When a lifeguard is not on duty or available a responsible adult should agree to watch children and other swimmers without distractions. 
If a child is in deep water or in danger another child or an inexperienced swimmer should not jump in the water to try to save him or her. A panicked person will overpower them, pulling the rescuer underwater. In these situations, use one of the techniques the YMCA teaches in its Safety Around Water classes — the "reach, throw, don't go" technique. This technique is the concept of using a long object to try to reach for the distressed swimmer and pull him or her to safety. 
Wear a Life Jacket
Even if you're an experienced swimmer, wearing a life jacket can save your life. The CDC recommends using a life jacket, especially for activities such as jet skiing, water skiing, rafting, or fishing. 
Be Aware of Water Safety at Home
When you think of places where kids are around water, you may think of recreational areas (pools, lakes, oceans, etc.), but have you thought about the areas at your home where kids can get into the water? Children less than a year old are more likely to drown at home in a bathtub or a bucket. Simple actions like emptying tubs, buckets, containers and kids' pools immediately after use and closing toilet lids and doors to bathrooms and laundry rooms when not in use can save a child's life. If you have a pool at home, it might be a good idea to install a fence that surrounds the side of the pool to avoid any incidents. 
As we approach summer, it is important to remind parents and caregivers about water safety and tips so that everyone can enjoy swimming and stay safe throughout the summertime activities. To learn more about Safety Around Water, join one of the Safety Around Water classes that the YMCA of Greensboro offers throughout Greensboro, North Carolina and Jamestown, Reidsville and Eden. We are able to offer Safety Around Water classes to the community thanks to the generosity of supporters and donors.
Published on May 11, 2023