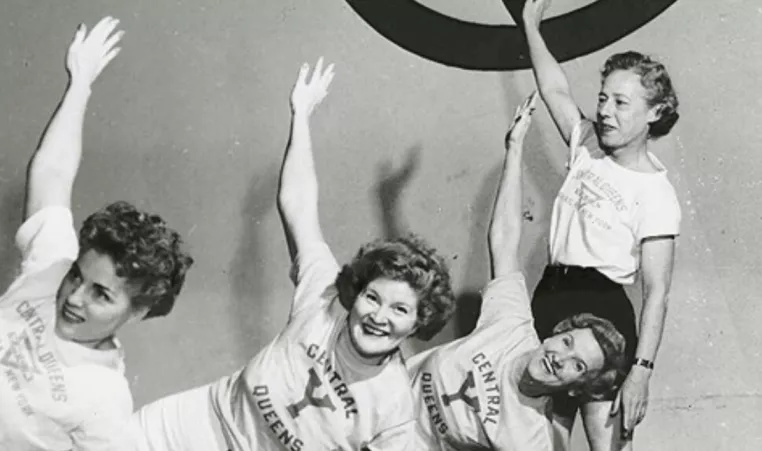 There is no better time to celebrate the accomplishments and impact of YMCA women than Women's History Month. The YMCA of Greensboro honors Women's History Month by recognizing the inspirational roles and achievements that women have made throughout the Y's history.  
Women have played a vital role since the YMCA's inception in the United States. Women were commonly included in debating societies, outdoor clubs, theatrical and music organizations, and in due time were included in leadership roles within the organization. 
Let's go on a journey throughout history to honor and lift up the women who were instrumental in the Y's legacy. 
1886 When the YMCA was founded by George Williams in 1844, the organization was open only to men. Eventually, the YMCA welcomed women in unpaid roles such as volunteer teachers and fundraisers. However, in 1886 Ellen Brown became the first female YMCA employee as the "boy's work secretary."  
Brown started a night class at the YMCA that quickly expanded into a department. It was clear that it was only a matter of time before women were to be recognized and offered paying jobs.  
1914-1918 Just a few days after the declaration of World War I, the YMCA had already set up and established around 250 recreation centers, known as huts, and would go on to build temporary huts across Europe. These huts were there to support both soldiers and civilians and were manned by thousands of volunteers. There were some notable YMCA supporters who provided assistance during WWI, one of which was Princess Helena. 
Princess Helena Victoria of Schleswig-Holstein became a notable member and chairwoman of the organizing committee of this group. She helped to open the YMCA to women by creating the first YMCA Women's Auxiliary during the first month of WWI. 
But not only did Princess Helena play an important role during WWI in Y's history but YMCA records show that 5,145 women served under the YMCA banner during this time. 
 1946 After World War II, women began to take new positions and opportunities that did not exist before war. The world had changed and so did the Ys, welcoming more women and people from different races and religions. By 1946, approximately 62 percent of YMCAs were allowing female members, and shortly after women made up 12 percent of the YMCA's membership.  
The war empowered women to gain strength and mobility in the workplace. Slowly, more and more women served in a variety of positions in YMCAs across the world.  
1963 Violet Pauline King Henry was the first black woman to become a lawyer in Canada, as well as the first black person to graduate from law school in Alberta, Canada.  
In 1963, she became the community branch executive director of the Newark (N.J.) YMCA and later in 1976, she was appointed executive director of the Organizational Development Group of the National Council of YMCAs, the first black woman to hold a position at that level. Henry helped open the path for women and the black community in Y history. 
1970 Jean Ann Durades was the first African American woman to become field consultant with the YMCA. In 2019, she was inducted into the YMCA Hall of Fame. Jean Ann has been involved in cultural, civic and change-making activities.   
Durades helped African American and Hispanic youth through their college and career preparation through the YMCA government-funded programs in Chicago for many years. She said in the 2019 National YMCA Hall of Fame Inductee Interview, "I saw these young people growing and becoming more aware of themselves and getting more solid with their commitment to the Y and it was very gratifying."Durades worked for the YMCA for 27 years between Chicago and Minneapolis.  
 1975 One of the founding members of the San Jose YMCA, Xinia Brenes Jenkins was deeply involved in the Costa Rican youth movement. The Latin American Confederation of the YMCAs reached out to Jenkins for her assistance in instituting a national Costa Rican YMCA in 1975.  
In 1990, she was an important extension and contributor to Latin American YMCAs becoming a development executive. Jenkins' work for the Costan Rican YMCA focused on providing programs for refugees, relief for those affected by housing shortages, and offering vocational skills training for women and agricultural skills training for Costa Rican Indians. 
2018 Patricia Pelton from Canada was elected as the first female president of the World YMCA. When elected, she stated, "the women leaders in our movement, past and present, have worked so hard to pave the way and see this day. Inclusion in leadership benefits us all. This. Change. Is. Momentous."  
The World Alliance of YMCAs awarded Pelton the Queen Elizabeth II Diamond Jubilee Medal. This prestigious medal is presented to YMCA volunteers and staff who have made outstanding contributions to the development of the YMCA in addition to other community work.  
2020 YMCA of Greensboro named Rhonda Anderson as the organization's first female and African-American president and chief executive officer. 
Before joining the YMCA of Greensboro, Anderson held leadership roles at several Fortune 500 companies as well as the CEO of The Community YMCA in Red Banks, NJ, and COO of the YMCA of Greater Charlotte. In an interview with the Triad Business Journal Anderson said, "I am deeply honored to have been selected to lead this dedicated team of changemakers at the YMCA of Greensboro and to drive continued support for the community." Since then Anderson has worked closely with Y team members and community leaders to serve Greensboro's community. She also has been instrumental in the advancement of the organization's diversity, equity and inclusion efforts. 
Throughout the Y's 177-year history, many incredible women have helped expand the work of the Y and strengthened the organization's ability to serve communities around the world. We are proud to honor these women today.
Resources: 
Kautz Family YMCA Archives.

Kautz Family YMCA Archives | University of Minnesota Archival Collections Guides (umn.edu)

 
Ancestral Findings.

The Creation and History of the YMCA – Ancestral Findings

 
2019 National YMCA Hall of Fame Interview with Jean Ann Durades.

2019 National YMCA Hall of Fame Inductee Interview: Jean Ann Durades - YouTube

 
Rhonda Anderson's Interview with Triad Business Journal.

Rhonda Anderson named president and CEO of the YMCA of Greensboro - Triad Business Journal (bizjournals.com)

 
Published: March 1, 2022