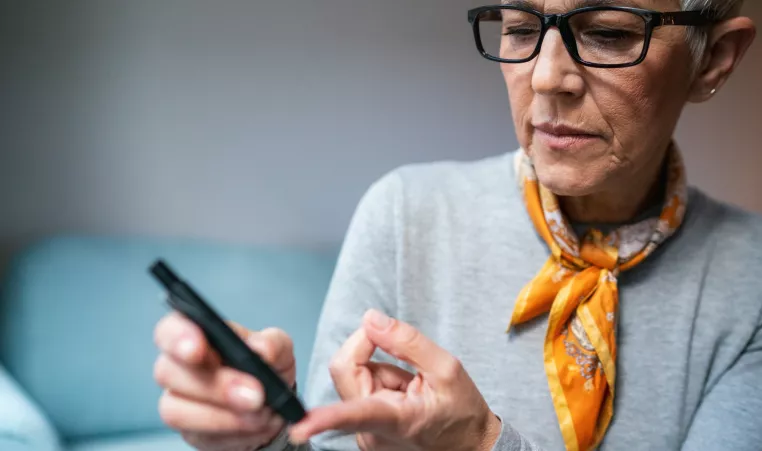 November is National Diabetes Month, a time to bring attention to diabetes and the importance of preventing this disease by making small lifestyle changes. According to the National Institute of Health (NIH), diabetes affects about 37 million Americans, including adults and youth. Diabetes is a disease that occurs when your blood glucose, also called blood sugar, is too high and can damage the eyes, kidneys, nerves, and heart. Diabetes is also linked to some types of cancer. 
According to the Centers for Disease Control (CDC), there are three main types of diabetes: Type 1, Type 2 and gestational diabetes. Type 1 diabetes is thought to be caused by an autoimmune reaction that stops your body from making insulin. Type 2 is the most common type of diabetes since about 90-95% of people have this type. It is developed over many years and is usually diagnosed in adults. Many people do not notice any symptoms, so it's important to get blood sugar levels tested when at risk. Gestational diabetes develops in pregnant women who have never had diabetes. 
In many cases before being diagnosed with diabetes people have prediabetes, in which blood sugar levels are higher than normal but not high enough for a Type 2 diabetes diagnosis. In the United States, 96 million adults — more than 1 in 3 — have prediabetes according to the CDC. More than 8 in 10 of prediabetic adults don't know they have it. The good news is that if you have prediabetes, a lifestyle change can help you take healthy steps to reverse it. Even though there isn't a cure for diabetes, a lifestyle change and developing healthier habits can also help prevent diabetes or manage this disease. The NIH recommends the following five factors to manage or prevent diabetes: 
Following a healthy diet such as fruits and vegetables, whole grains, lean meats, tofu, beans, seeds and non-fat or low-fat milk and cheese.  

Maintaining optimal body weight.

Engaging in recommended amounts of physical activity.

Not smoking.

Keeping alcohol use to no more than 1 drink per day for women and 2 drinks per day for men.
We understand that adopting new habits or changing a lifestyle can be challenging, that is why the Y offers a Diabetes Prevention Program. In the YMCA's Diabetes Prevention Program, a trained Lifestyle Coach will introduce topics in a supportive, small group environment and encourage participants as they explore how healthy eating, physical activity and behavior changes can help reduce their risk for diabetes and benefit their overall health. Join this CDC-recognized, free and open to the community program and become one of the hundreds of people who have reversed their prediabetes and prevented being diagnosed with Type 2 diabetes.
Diabetes can affect almost every part of your body and your quality of life. Inform yourself, consult with your healthcare provider and make small changes so you can prevent this disease and be a healthier you.  
Published on November 1, 2022
Resources: