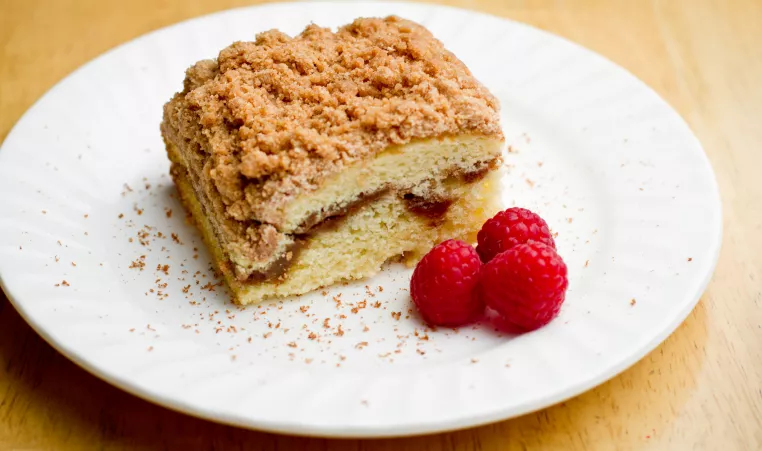 Cake with a Healthy Twist
It can be hard to satisfy your sweet tooth while remaining thoughtful of your health... but it doesn't have to be. Check out this recipe from one of our Y members at Stoney Creek for Heart-Healthy Coffee Cake!
Ingredients
Nonstick cooking spray
⅔ cup all-purpose flour
½ cup whole wheat flour
1 teaspoon baking soda
1 teaspoon ground cinnamon
¼ teaspoon salt
1 ½ cups peeled, cored, and finely chopped apple (2 large), such as Jonathan or Granny Smith
¼ cup frozen or refrigerated egg product, thawed
¾ cup sugar
¼ cup chopped walnuts or pecans
¼ cup applesauce
1 tablespoon all-purpose flour
1 tablespoon whole wheat flour
½ teaspoon ground cinnamon
1 tablespoon margarine
¼ cup chopped walnuts or pecans
¼ cup packed brown sugar

Directions
Lightly coat a 9-inch round baking pan with cooking spray; set aside.

In a medium bowl combine the 2/3 cup all-purpose flour, 1/2 cup whole wheat flour, baking soda, the 1 teaspoon cinnamon, and salt; set aside.

In a large mixing bowl, toss together the chopped apple and egg product. Stir in the 3/4 cup sugar, the 1/4 cup nuts, and applesauce. Add flour mixture and stir just until combined. Pour batter into prepared pan.

For topping, stir together the brown sugar, the remaining all-purpose flour, whole wheat flour, and cinnamon. Cut in margarine until crumbly. Stir in remaining 1/4 cup chopped nuts. Sprinkle topping over batter in pan.

Bake in 350 degree F oven for 30 to 35 minutes or until a toothpick inserted near the center comes out clean. Cool in pan for 10 minutes. Remove from pan and serve warm. Makes 10 servings.