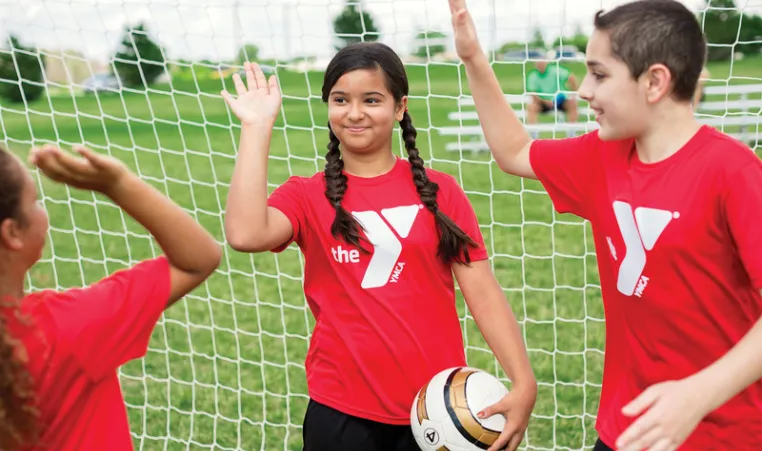 It is well known that practicing sports brings physical and mental health benefits. The CDC states that regular physical activity can help children and adolescents improve cardiorespiratory fitness, build strong bones and muscles, control weight, reduce symptoms of anxiety and depression, and reduce the risk of developing health conditions. But one of the most significant benefits that is often overlooked is the role youth sports play in building teamwork and character. Sports can help shape children's minds and emotions. This is the reason why the Y builds its programs with a focus on good values and healthy competition with prepared guidance from all staff and volunteers.
"Our boys played their first season of soccer in the fall and we loved it. It has helped us all physically and mentally. My husband coached both our sons' soccer teams for the first time and he loved it. Being a part of the YMCA family has been such an amazing experience for our family and we would love for our boys to continue playing soccer and hopefully other sports. They are looking forward to the upcoming season," said a youth sports participant parent.
Every year we receive positive stories on how our youth sports have a positive impact on the lives of children and their families. But how exactly can practicing sports build character and teach teamwork?
Teamwork is a Skill for Life
Sports are all about teamwork. There is no way a kid can play a team sport by themselves, so they have to learn how to communicate with others, interact with other with backgrounds, cultures and personalities, cheer their teammates on and more. Players must rely on each other to win the game so they learn from an early age how to work as a team which is a skill that they
will have to practice in different settings throughout their life. The Y also has partnerships that encourage teamwork, support children's mental health and help the kids feel more seen and acknowledged. One example for this is the Y's partnership with the 500 Fist Bumps initiative which encourages all kids to be seen by giving fist bumps throughout each practice and game. The YMCA of Greensboro has started implementing this initiative at one location but will expand the 500 Fist Bumps initiative to all locations starting in 2024.
Learning to Lose
In sports, as in life, things don't always go as planned and kids get to learn this from the field. Sometimes they will lose and other times they will win. Learning how to handle disappointments prepares them to be understanding and patient with themselves and others. Kids also learn the importance of setting and working towards their goals. This promotes motivation and responsibility. Having the opportunity to experience challenges, wins or losses from a young age prepares them for future challenges, in their personal, academic and professional lives.
Building Responsibility
Being involved in a team and participating in a youth program needs a certain amount of responsibility not only from parents but also from the player. From showing up to every practice on time to taking responsibility for mistakes they make during the game; they learn accountability that they can carry to other areas of their life.
Youth sports have a positive impact on children's character development. Encouraging teamwork, resilience and responsibility among other character development skills, prepares them for success not only on the field but throughout their lives. The Y offers youth sports including youth basketball, youth soccer, youth cheerleading, youth volleyball, youth baseball, youth t-ball and youth sports camps throughout the year. We have youth sports programs in Greensboro, North Carolina, as well as surrounding cities in Jamestown, Eden and Reidsville. Are you ready to enroll your kids in a fun but enriching activity? Enroll them today!
Published November 1, 2023