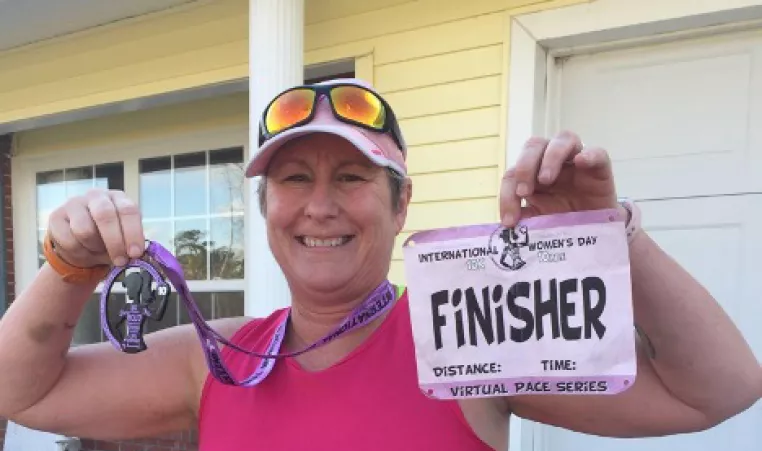 For Tommiann Hill being active has always been ingrained in her. The former triathlete had another challenge to face after completing her cancer treatments but this time her challenge was getting started again. Tommiann, with help from others, was able to get back into an active lifestyle by taking the first step and joining the LIVESTRONG at the Y program where she found support and accountability. Read Tommainn's story below.
"A picture can tell the story. Cancer takes; it doesn't give. It continues to take even when treatments are finished. Weakness, fatigue, soreness, battle scars, and just plain 'blahs' are now my everyday fights.  
I was a triathlete, marathoner, and teacher. Cancer took that from me. The war is finished, but the battle continues.
LIVESTRONG gave my life back, literally! I did not want to move; it hurt too much. I was always too tired. I registered for LIVESTRONG to get me out of my pity party. I wanted to begin fighting to get "me" back. LIVESTRONG gave me the spark to begin again. The workouts were tailored to my strengths and weaknesses. 
The group helped me be accountable to show up. It provided me someplace to go and work on getting me out of my pity party. It wasn't easy; it was a challenge every time to keep moving forward. Now, I'm training for a 5k in November (YMCA Turkey Trot). If it wasn't for LIVESTRONG, I would still be in my pity party. 
Thank you, Meredith, for your encouragement compassion and willingness to make me stronger and better. A new version of me."
If you are a cancer survivor looking for a supportive group who will encourage and lift you up while helping you to be a healthier you then LIVESTRONG at the Y is for you. We would love for you to join the group and like Tommiann said, fight to get 'me' back.