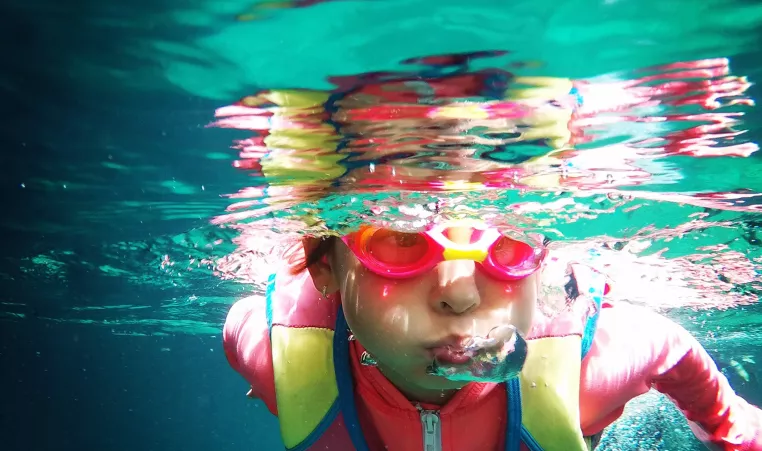 Getting ready for pool days and beach weeks this spring and summer? Be sure your family is prepared.
Swimming is one of the most popular recreational activities of the summer, however; it's no fun if it's not safe. With National Water Safety Month approaching, we want to help you prevent accidents before they happen. Read on for some water safety tips.
Start swim lessons early!
It is crucial for everyone to learn how to swim. At the YMCA, children can start at 6 months, accompanied by a parent. 
Wherever you or your little ones learn to swim, be sure the pool is being monitored by individuals who are CPR/AED and First Aid-certified.
Life Jacket First
Before entering the pool, all minors should be fitted for a life jacket. Life jackets are Personal Flotation Devices (PFD) designed to keep the wearer afloat. When choosing a life jacket for children, size accurately to their weight. It is important to not buy life jackets with the thought of your child growing into it. For small children, a life jacket should have a crotch strap, padded head support and a grab handle.  Out of the five types of PFDs available, Type II: Near-shore Vests and Type III: Flotation Aids are the most suitable for children. Before purchasing, ensure they meet US standards and are United States Coast Guard (USCG) approved. Not only designed for children, you should set an example and wear one too.
Watch What's Next
Contrary to popular belief, it takes very little water for children to drown. Children can drown in as little as two inches of water, and you will most likely not be able to hear it. Drowning is silent with very little splashing, which is why children should be kept within arm's length and never left unattended when swimming or in close proximity of water. Supervising adults should be responsible and undistracted.
Trained and Ready to Go
Knowing CPR is one of the most important skills to have when swimming.  Drowning can occur in seconds, and it is important to know what steps to take afterward. Administered correctly, CPR can help save a life in a breathing emergency. 
For questions about swim lessons or water safety, contact an aquatics director at one of our branches.