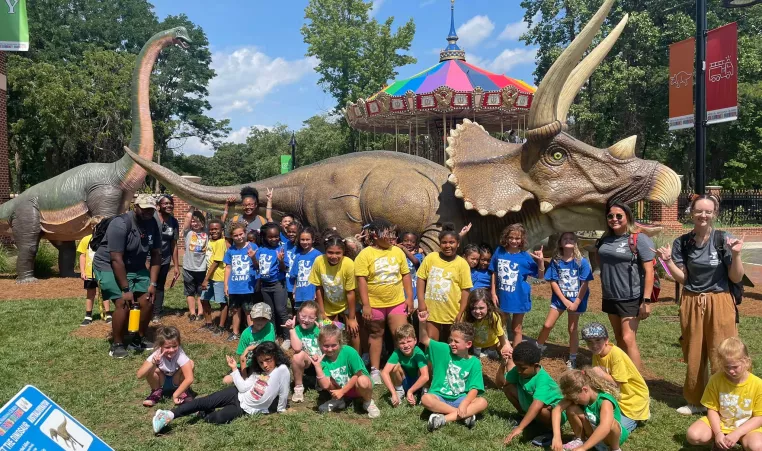 Summer Camp 2022 is in the books and we can't believe the amount of fun we had across our branches and overnight camp! 
Every year we get to witness hundreds of kids come out of their shells and find new friendships and connections with other campers and staff. Throughout these weeks, we have laughed, played and made tons of memories. A variety of different activities allowed everyone to find something they enjoyed doing at camp. Campers were able to experience fun and educational field trips like Bryan YMCA's ANTS visiting the North Carolina Zoo and Reidsville YMCA's Camp Soar that had an amazing day at High Point University's Culp Planetarium! 
Kids get to explore their talents and interests through engaging activities, art projects, STEM games, sports, cooking, swimming and more. Summer camp is also the perfect place to develop new skills and for children to grow outside of a classroom setting. Some of the skills and activities experienced by campers this year included preparing s'mores at Eden Y, making slime at Hayes-Taylor Y and splashing into the pool at Spears Y. One thing is for sure — we know how to have fun!
This year we served 689 kids across the branches through summer day camp! Thanks to our amazing community partners we are able to not only serve kids through fun activities, but also make sure they are taken care of and well nurtured during their time spent in our camps. Every day at three of our branches, kids had access to free meals that were funded by the North Carolina Department of Public Instruction Summer Feeding Department (NC DPI). Through the program, we served 4,614 meals to campers at Bryan YMCA, 4,644 meals at Hayes-Taylor YMCA and 6,077 meals at Ragsdale YMCA totaling 15,335 free meals. Additionally, thanks to our partner Backpack Beginnings, 200 weekend meal bags and fresh produce were provided to campers. We couldn't do what we do without the amazing support of donors and partners!
Throughout generations, summer is always enthusiastically expected by every child as a time to just have fun, and we are happy to be the choice for hundreds of families throughout our community! We invite you to become part of this experience by enrolling in one of our Summer Camps next year with registration opening on March 1, 2023. We welcome all! Summer Camp and many other Y's services and programs are available through our Financial Assistance program for those who have financial barriers. YMCA of Greensboro Summer Camps are offered at six branches and an overnight camp throughout Greensboro, NC, Jamestown, Eden and Reidsville. 
Let your kids join the adventure and experience the best summer ever — every summer!  
Share your favorite summer camp memories through Social Media and don't forget to tag us! (@ymcagreensboro)
Published on August 24, 2022.