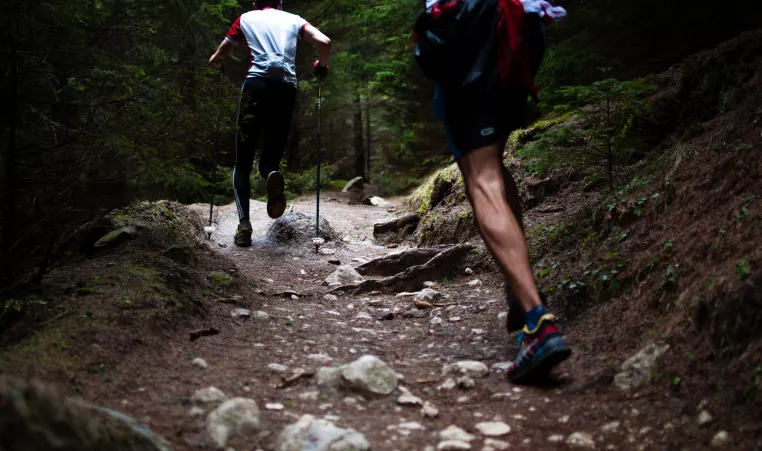 The COVID-19 pandemic has changed the way many people think about their health. It has also brought with it a new wave of thought and discussions about health, wellness and what we can do to protect ourselves from illness.
Besides following precautions like wearing a mask, washing our hands and maintaining social distance from others, our number one defense against illness is already with us: our immune system. By boosting our immunity, we can help our immune system protect our body from infections.
Did you know that exercise is a great way to boost your immunity? And not only that--besides helping you look and feel great, a healthy lifestyle can improve a lot more, too! Exercise can also help improve your mental health, reduce your stress and improve the quality of your sleep.[1] These are all things that everyone could use a little extra help with this year, especially as the winter months and flu season approaches.
Regardless of your age or physical ability, according to the CDC, "regular physical activity is one of the most important things you can do for your health."[6] However, in our increasingly busy world, it can be difficult to start new habits or make time for a regular exercise routine. But it's never too late to start! Whether you make time for a daily walk or go out for a vigorous bike ride twice a week, even a little activity can help a lot.
HOW EXERCISE BOOSTS OUR IMMUNITY
So if exercise is good for our entire body, how does it help us fight infectious diseases like COVID-19? While there are several theories for how exercise helps boost our immunity and protect us from illness, none of experts' theories have been proven.[2]

Some theories include:[2]
Exercise helps improve our circulation, which helps our organs function more efficiently and keeps our bodies healthy.
The rise in body temperature while we are exercising may help prevent bacteria from growing and causing infection.
Exercise helps reduce our stress levels and slows down the release of stress hormones, which may help bolster our defenses against illness.
Physical activity may help flush bacteria and germs from our bodies.
OTHER WAYS TO STRENGTHEN YOUR IMMUNE SYSTEM
Along with exercise, there are several other ways we can help strengthen our immune system and develop a healthy lifestyle.
Wash your hands frequently.
Eat a diet high in fruits and vegetables. A varied diet that is rich in foods containing vitamins like vitamin C, vitamin D, zinc, iron and protein can help strengthen our immune cells.[4]
Limit the amount of high-fat and processed foods you eat. According to the Harvard School of Public Health, a diet low in nutrients and high in processed foods or high in sugar and red meat can suppress our immunity.[4]
Regular exercise. A daily walk, trip to the gym several times a week or following an exercise routine are great ways to stay active.
Drinking alcohol only in moderation.
Get enough sleep. Adequate amounts of rest enables your body to rebuild and recover.
Limit and manage your stress. While we live in a more stressful time than ever before, especially in the middle of a pandemic, unmanaged stress can lead to long-term health issues. These include issues like high blood pressure, anxiety, depression and increased risk for illnesses like colds.[5]
 
We know that keeping up with our habits or sticking to new ones is often easier said than done. The good news is that you're not alone! At the YMCA of Greensboro, we work every day to help keep you healthy. We are with you every step of the way to help you grow in mind, body and spirit. Visit one of our branches today to get started on your wellness journey!
Sources
1. Mayo Clinic: https://www.mayoclinic.org/healthy-lifestyle/stress-management/in-depth/exercise-and-stress/art-20044469
2. MedlinePlus: https://medlineplus.gov/ency/article/007165.htm
3. Harvard Health Publishing: https://www.health.harvard.edu/staying-healthy/how-to-boost-your-immune-system
4. Harvard School of Public Health: https://www.hsph.harvard.edu/nutritionsource/nutrition-and-immunity/
5. Healthline: https://www.healthline.com/health/anxiety/effects-on-body
6. Centers for Disease Control: https://www.cdc.gov/physicalactivity/basics/pa-health/index.htm
Now that you've read the importance of exercise and how it contributes to boosting your immune system, are you ready to start working out? The YMCA of Greensboro has multiple locations; with branches across Guilford and Rockingham Counties in Greensboro, Jamestown, Eden, Reidsville and Whitsett, NC.
Visit one of our branches and make the first step by joining the Y. We offer updated cardio and strength equipment, spacious facilities and a variety of Older Adult, Adult, Teen and Children's programs.
Whether you enjoy working out alone or with a supportive group, you don't have to start your fitness journey alone. Check out the programs and activities we have to offer and start strengthening your immune system today!