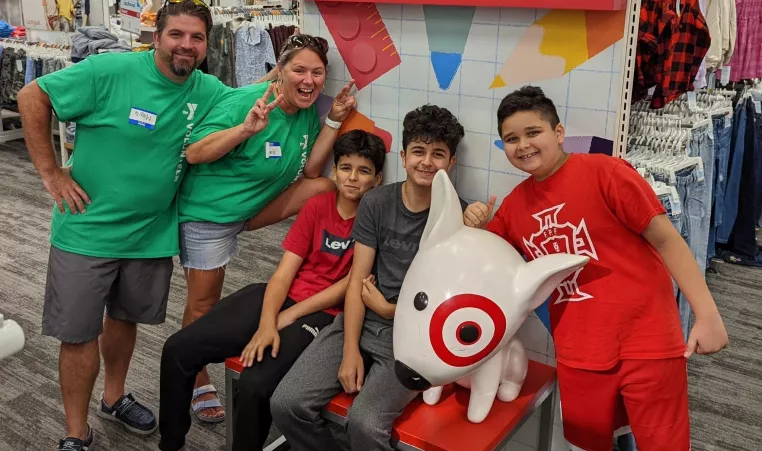 We had another successful Bright Beginnings Program this year and we couldn't have done it without the support we received from donors, volunteers, partners and the community! For more than 20 years we have seen thousands of children's faces light up as they are given the opportunity to buy back-to-school clothes they need for the upcoming school year. Bright Beginnings kids are able to go shopping with Y volunteers to pick out clothes, shoes, socks, etc. that they would like to wear. Plus, each child receives a new backpack filled with school supplies.  
Since the program's early beginnings, we have been overwhelmed by the generosity of our community and this year was no exception! Thanks to 97 individuals and companies we raised $51,000, serving more than 500 children through the shopping experience at our branches! This year we also had nearly 250 volunteers who dedicated more than 1,500 hours into the program not including the support we received from our amazing partners such as Target, Walmart and JCPenney. This year's program served kids from Hope Academy, Jones Elementary, Hunter Elementary, Peck Elementary, Sickle Cell Agency, Mustard Seed Community Health, Rising Stars Daycare and more. 
Additionally, we collected hundreds of bookbags across our seven branches — 52 bookbags from Stoney Creek Y, 339 from Ragsdale Y (which 100 were donated to Resourceful Support Center), 45 from Bryan Y (28 donated to a local daycare), 140 from Hayes-Taylor Y, 66 from Reidsville Y, 16 from Eden Y and 196 from Spears Y. Totalling 854 bookbags donated!  
Since 2000, the YMCA of Greensboro has invited children and volunteers in Guilford and Rockingham County to participate in our Bright Beginnings Program. During the summer, the YMCA staff reviews applications of children that are provided by schools, churches and other trusted sources. Once children with the most needs are selected, the children meet at their local YMCA on an assigned date in August before school begins. Once the Bright Beginnings participants arrive, they are paired with a volunteer shopping buddy and are treated to a one-on-one shopping trip where they pick out clothing and other needed items for the upcoming school year with an allotted amount of money to spend. In addition to the shopping experience, some of our branches also serve children a meal before traveling to the store to shop. Each year the program counts on the generosity of individuals, organizations and corporations so that this opportunity is provided to as many families as possible for free. 
At the Y, we believe that every child should start the school year ready to excel and Bright Beginnings makes this possible for hundreds of local kids every year. This program wouldn't be a success without our amazing donors, volunteers and partners! We aim to replicate and even exceed the number of children and families that we serve throught this program next year. 
Learn more about our Bright Beginnings program and join us next year for another rewarding experience! Trust us, you don't want to miss it!