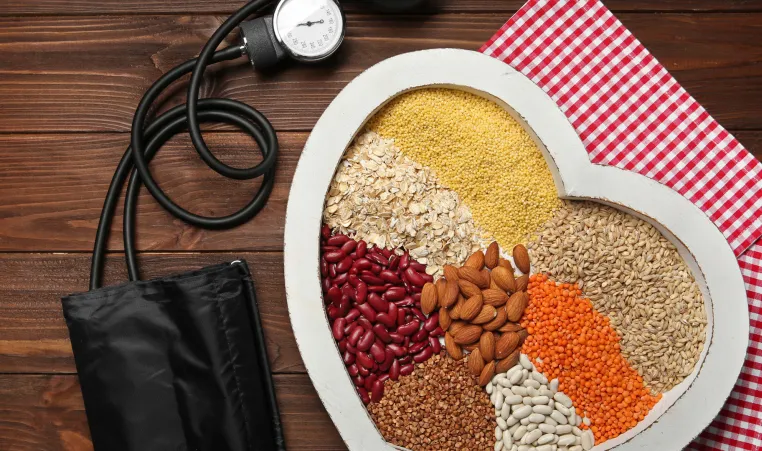 Understanding how to live a heart-healthy lifestyle is a form of practicing self care. According to the CDC, 1 in every 3 deaths in the United States are related to cardiovascular disease. As February is American Heart Month, we think this is the perfect opportunity to raise awareness about cardiovascular disease prevention.
To ensure you are preventing or managing heart disease, there may be some changes that will need to be made. We understand that this might be difficult, since changing exercise patterns, diet and unhealthy habits from one day to another is not something everyone can succeed at right away. Instead of undertaking a huge lifestyle change all at once, try improving your health with a series of small changes and of course give yourself grace. Change is hard. Here are ten things you can do to improve your heart health! 
Learn Your Health History
The first step to a healthy lifestyle change is knowing your risks and health history. High blood pressure is often called the silent killer, so consult your doctor regularly. You might not have symptoms, but it's a leading risk factor for heart disease and stroke. Regular check-ups can help you prevent unknowingly living with heart disease.
Have a Handful of Nuts
Replace those salty midday snacks, like chips or cookies, with a handful of nuts instead! Walnuts, almonds, peanuts, and other nuts are good for your heart. When choosing your nuts, it's best to choose unsalted or unsweetened. A fun and easy way of incorporating them into your diet is adding them to salads or pasta for a healthy and tasty crunch!
Check the Labels
During your next grocery store trip, start the simple habit of checking food labels. Reducing your sodium intake, for example, is as simple as comparing the sodium content of products. A quick guide to remember is that 5% daily value of sodium per serving is considered low, and 20% is considered high. 
Move More, Sit Less
If you aren't in the habit of exercising, search for an activity that you enjoy that incorporates more movement into your daily routine. Some examples are a brief walk around the park, dancing, walking your dog or riding a bike. At the Y, we are always incorporating new classes and challenges for our members and community to participate in. Check out our wellness page for our latest challenge or find your next favorite group exercise class and get moving!
Spice Up Your Food
Adding different spices to your food will give them a flavor boost without adding salt. You can search for recipes that are heavy on spice and low on salt, or you can try experimenting with your favorite dishes and see what adding some new spices can do!
Take a Deep Breath
Slowing down and taking a few minutes to breathe deeply every day is a surprisingly simple way to lower your blood pressure and improve your heart health. Avoiding stress and maintaining a relaxing state can work wonders for your heart health. Set up an alarm for the middle of the day so that you don't forget to take a few minutes to breathe. 
Avoid Sugary Drinks
Did you know that cutting out one sweetened soda or sugary coffee, such as a latte, can save you 100 or more calories a day? You can substitute sugary drinks with water to reduce calories. If you are missing the flavor, try adding fruits or vegetables to your water! Strawberries, lemons and cucumbers are great options, and they will also add to your daily fruit intake. 
Monitor Your Blood Pressure Regularly 
Regularly monitoring your blood pressure, with support from your healthcare provider, can help lower your risk for heart disease and stroke. You can check your blood pressure at the doctor's office, pharmacy or even at home! Our branches offer a blood pressure self-monitoring program that teaches you how to manage your blood pressure and monitor it at home. 
Prioritize Rest
Lack of sleep can be associated with elevated cholesterol or blood pressure. If you struggle with going to sleep early, develop a bedtime routine that aligns with your lifestyle and start winding down two hours before bedtime. This way, you can fall asleep more quickly and stay asleep.
Reduce Stress
According to the American Heart Association, your body releases adrenaline when you are stressed, which is a hormone that temporarily speeds up your breathing and heart rate and raises your blood pressure. Managing stress is good for your health and well-being. To help yourself manage stress, use techniques like breathing exercises or yoga, or find a fun, relaxing hobby.
Small steps are still progress! Start slowly implementing these habits into your daily routine and take sustainable, gradual steps toward a healthier, happier lifestyle.
Published February 6, 2023
Resources: