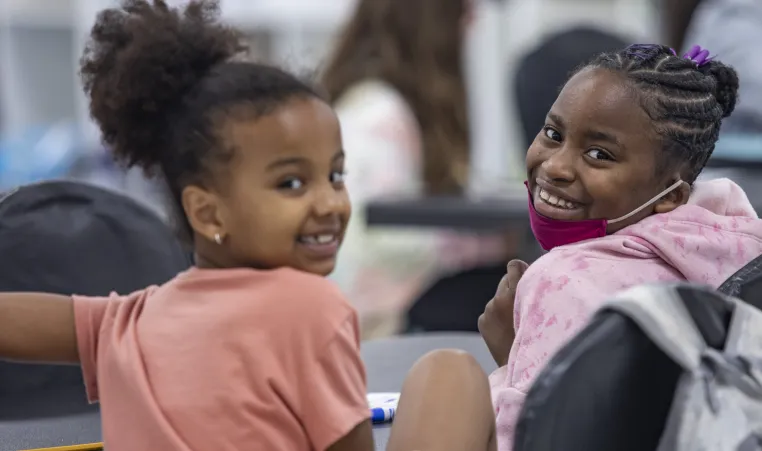 Besides being a fun adventure, summer camp also offers a unique learning experience that can help build several foundational skills that are necessary for a child's development. Our youth development programs are designed not only for kids to have a safe and fun time, but also for them to grow in different areas. In 2022, 94% of youth in our development programs, including summer camps, experienced growth in at least one social emotional developmental asset area. This is a result we want to continue to replicate and improve each year to ensure we are providing more than entertainment to our kids. But what skills are summer camp helping your child to develop? Glad you asked! 
Leadership Skills 
In a camp environment, kids are often in situations where they have to lead groups or participate in team-building activities. These experiences can help children develop their leadership skills, learn how to work with others and take on responsibilities. 
Children are taught lessons throughout the day that help them make good choices, feel confident and get along with others. We are building 21st century leaders.
Independence and Self-Confidence 
Kids are often encouraged to try new things and step out of their comfort zone. This can help them develop a sense of self-confidence and independence that will be beneficial as they grow older. 
Social Skills 
One of the most significant benefits of summer camp is that it provides children with a chance to develop their social skills. Kids have the opportunity to interact with children from different backgrounds and cultures, which can help them learn how to communicate effectively, build relationships and appreciate diversity.
Physical Fitness
Summer camps also provide an excellent opportunity for kids to stay physically active without them even noticing. All our camps offer a variety of outdoor and indoor activities, such as swimming, hiking and sports that can help children stay fit and healthy. 
Creativity and Imagination
Y camps feature engaging activities like field trips, art projects, STEM (science, technology, engineering and mathematics) games, cooking and other activities that encourage children to express themselves creatively.
Plus, our branches' summer camps have weekly themes making every week a unique creative experience that helps children explore their talents and find their passion. From a week dedicated to STEM to a week dedicated to art, there's something for every child!
Check out the weekly themes and more information about summer camps at our branches by visiting the summer day camps page. Our YMCA Camp Weaver also offers an unforgettable summer camp experience including overnight and day camp.
Financial assistance is available for summer camp as well. We want to make sure that every child has the opportunity to be part of this amazing experience. 
If you're looking for a fun and educational way for your children to spend their summer, consider enrolling them in a summer camp!
Posted on March 27, 2023.