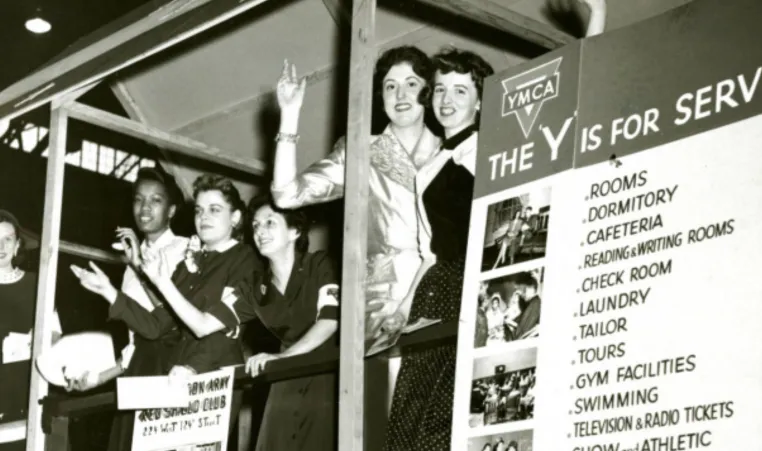 For many, the YMCA has become their place for connection, their place to become better versions of themselves, the place for their families to find fun, their community, the place where they found more about their passions and much more. Needless to say, it is a very important place to many people – but how much do we really know about the Y? Well don't worry, we are here to refresh your memory. 
How it started
The first YMCA was founded nearly 180 years ago in London. Life in 1844 industrial-London was not easy, especially for youth, so in an effort to offer young men a safe and enriching place to thrive, George Williams and 11 other young men held a meeting to organize the first Young Men's Christian Association (YMCA).
It was seven years later in 1851 when the first YMCA in the United States was established. When a retired Boston sea captain Thomas Valentine Sullivan, working as a marine missionary, was inspired by the stories of the Y in England and led the formation of the first U.S. YMCA at the Old South Church in Boston on December 29, 1851. In the years to come the Y would become a pioneer in inclusion, opening YMCAs that served a diverse population including YMCAs serving African American, Asian and Native American communities across the country. 
The Y is known for its innovation and presence in the community, below are several highlights of Y's history:
First known English as a Second Language (ESL) class in the United States | Cincinnati, 1856 -

 Welcoming immigrants has always been an important part of our work at the Y. In 1856, the nation's first-known English as a Second Language (ESL) class was held for German immigrants at the Cincinnati YMCA.
First American Summer Camp is Founded | New York, 1885 - Camping became an important part of Y programming in 1885 when the organization opened America's first known summer camp, Camp Dudley at Orange Lake, New York. 
Invention of Basketball and Volleyball | Massachusetts, 1890s - YMCA instructors invented these popular sports that we currently play!
S

wimming Lessons Begin at the YMCA | Detroit, 1909 -

 In response to a YMCA campaign "to teach every man and boy in North America to swim," George Corsan arrived at the Detroit YMCA in 1909 to give swimming lessons.
YMCA Responds to World Crises | 2000s - The YMCA has responded to several crises in the 2000s — the attacks on the World Trade Center and Pentagon (Sept. 11, 2001), the Pacific Rim Tsunami (2004), Hurricane Katrina (2005), the earthquake in Haiti (2010) and the COVID-19 pandemic (2020). Through our fundraising and rebuilding efforts, the Y was able to rekindle hope in affected communities, particularly among young people.
The Y's Mission 
The Y has grown exponentially over the span of our rich history, but our mission of putting Christian principles into practice through programs that build healthy spirit, mind and body for all has remained constant.
The Y's Vision 
Our vision continues to evolve as we strive to increase our impact in youth development, healthy living and social responsibility in the U.S. and across the world. 
Our Values
In 1994, the Y defined "character" as the demonstration of four core values: caring, honesty, respect and responsibility. Today, these values continue to guide everything we do.
Caring: To be caring and kind to both oneself and others. 
Honesty: To be honest with oneself and truthful to others. 

Respect:

 To treat every living being, including yourself with respect.
Responsibility: To take responsibility for your actions and do what is right.
Now you know more about the Y! If you would like to know more about the YMCA of Greensboro and its seven branches and overnight camp visit our Mision & History page. 
Published on June 6, 2023