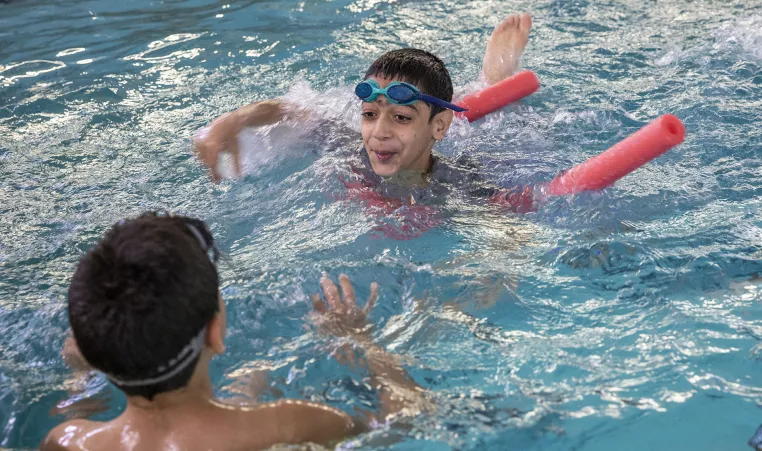 Greensboro, N.C., May 5, 2022 – In the spirit of Water Safety Month, the YMCA of Greensboro announced today that branches throughout Guilford and Rockingham Counties will offer free Safety Around Water classes to children between the ages of three and 15. The free classes will kick off this month at the Mary Perry Ragsdale YMCA in Jamestown and will begin in June at the downtown Greensboro Kathleen Price Bryan Family. Space is limited and registration is required.
The Y is the nation's leading expert in water safety and swim instruction. The Safety Around Water specialized program focuses on teaching children to be safer in and around the water. Children will learn boat safety, water park safety, beach safety and backyard pool safety. Plus, children will be introduced to beginner swimming skills. The program is recommended for children who have not had prior swim lessons.
"We are delighted to have the opportunity to offer free Safety Around Water classes to the community thanks to the support of POOLCORP," said Rhonda Anderson, YMCA of Greensboro president and CEO. "Water safety is a critical skill that all should have the opportunity to learn. Drowning in preventable and the Y's mission is to develop youth in the community to understand, recognize and respond appropriately when around the water."
According to the CDC, drowning is the leading cause of death for children ages one to four years old. It is the second leading cause of unintentional injury death for children ages five to 14. The United States experiences an average of 11 drowning deaths per day. With summer quickly approaching, the Y said it aims to protect youth and prevent drownings of youth in the community through the Safety Around Water program. Participants will follow a sequence of core skills that includes swim, float, swim and jump, push, turn and grab from in the water.
To learn more and register a child for the YMCA of Greensboro Safety Around Water class, visit ymcagreensboro.org/saw.
About the YMCA of Greensboro
The YMCA of Greensboro was founded in 1889 with a mission to put Judeo-Christian principles into practice through programs that build a healthy spirit, mind and body for all. Through its seven branches and YMCA Camp Weaver, the YMCA of Greensboro is strengthening the foundations of our community by offering a warm and friendly environment where people of all ages, races, faiths, beliefs, and physical and financial abilities participate in programs and experiences that make a positive difference in their lives. For more information on the YMCA of Greensboro, visit ymcagreensboro.org.