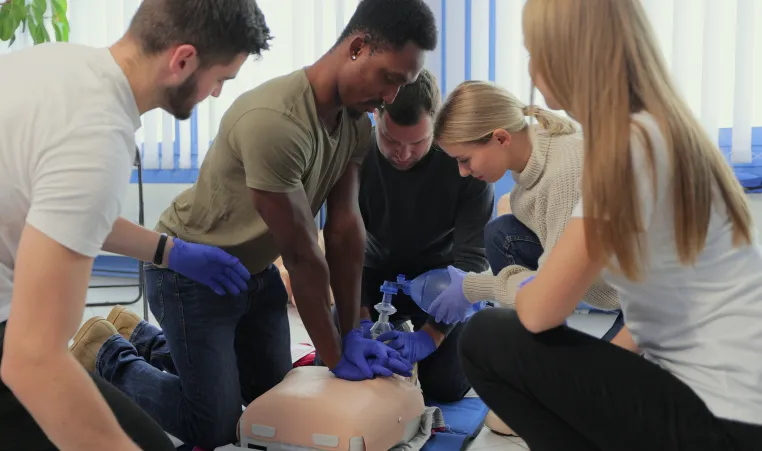 Greensboro, N.C., May 23, 2023 – In recognition of CPR Awareness Month this June, YMCA of Greensboro will host five free adult CPR classes throughout Guilford County in June for the community. CPR or Cardiopulmonary Resuscitation is an emergency procedure performed when a person's heart stops beating. According to the American Heart Association, individuals who receive proper CPR training could save a life, as more than 350,000 cardiac arrests occur outside of the hospital each year.
"We are excited to offer this key lifesaving skill to the community free of charge," said Rhonda Anderson, YMCA of Greensboro president and CEO. "You never predict using CPR, but, in an emergency, you will be glad you have the skills and knowledge to potentially save a life like one of our team members Cindy did."
Cindy Barbour, a seasoned Y staff member and CPR instructor, was exercising at a local park in Greensboro when she noticed a person in distress on a bicycle. Unbeknownst to her, the bicyclist, John Lowe, had been stung by a bee and was going into anaphylactic shock. He crashed to the ground, wasn't breathing, and didn't have a heartbeat.
"At that point, my training from the Y from teaching CPR just kicked into gear," said Barbour. "I started yelling at people to do things because I did not have my cell phone on me. So, immediately I called 911 and spoke on speaker to them and told them that I was a trained first responder."
Barbour performed CPR on Lowe until the paramedics arrived on sight. Lowe was then transported to the hospital where he stayed for several days. He suffered from a broken collarbone, ribs, wrist and other injuries. As he started his recovery process, he was able to reflect on what had happened and how Barbour saved his life.
"I was so grateful that she was trained in [CPR], and that she was there. It's a testament to how everyone should know how to do this stuff because you know most people would have just stood around and waited for EMS to arrive," said Lowe.
To show his appreciation to the Y, Lowe donated funds to the YMCA of Greensboro to purchase new CPR manikins to conduct additional CPR classes.
CPR that is administered immediately following a cardiac arrest can double or triple an individual's chance of survival. According to the American Heart Association, only 40% of people who experience cardiac arrest receive the proper care they need before professionals arrive.
To register for a free Adult CPR class hosted by the YMCA of Greensboro, visit ymcagreensboro.org/free-cpr-class. Classes are open to the community and will be taught at the YMCA of Greensboro Corporate Office, Alex W. Spears III YMCA, Kathleen Price Bryan Family YMCA, Hayes-Taylor Memorial YMCA and Mary Perry Ragsdale Family YMCA on various dates. Class space is limited.
Watch to Barbour and Lowe's lifesaving story.
About the YMCA of Greensboro
The YMCA of Greensboro was founded in 1889 with a mission to put Judeo-Christian principles into practice through programs that build a healthy spirit, mind and body for all. Through its seven branches and YMCA Camp Weaver, the YMCA of Greensboro is strengthening the foundations of our community by offering a warm and friendly environment where people of all ages, races, faiths, beliefs, and physical and financial abilities participate in programs and experiences that make a positive difference in their lives. For more information on the YMCA of Greensboro, visit ymcagreensboro.org.