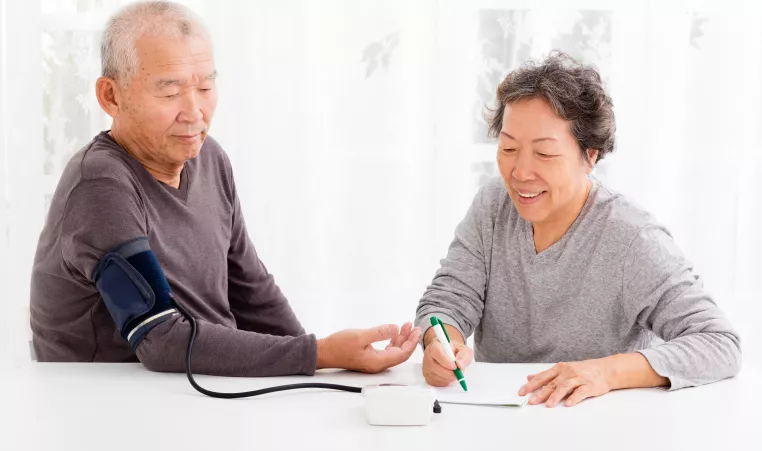 The Y will host a four-month health-focused program on blood pressure regulation at all of its branch locations.
Greensboro, N.C., February 23, 2022 – The YMCA of Greensboro announced its new offering of the YMCA's Blood Pressure Self-Monitoring Program designed to help participants with hypertension lower their blood pressure by following an evidence-based program that combines blood pressure self-monitoring, nutrition education and personalized support. The first session of the program will begin in March. Participants who register before March 1 will receive 50 percent off the program fee.
The Y developed this program to help individuals better manage hypertension and improve their overall health. According to the American Heart Association, more than 80 million Americans have high blood pressure, but less than half have it under control. Research shows that the simple process of checking and recording blood pressure at least twice a month over four months may lower blood pressure in some people with hypertension. In addition, evidence shows that proper nutrition, particularly with a reduction in sodium intake, may help reduce both systolic and diastolic blood pressures.
"We are proud to be offering this new program at all YMCA of Greensboro locations," said Angela Rogers, YMCA of Greensboro director of community health and wellness. "I have worked with several Ys in the past and have seen success in many lives. The Y provides the individual support and attention that participants need."
Each participant will be paired with a trained healthy heart ambassador located at one of the YMCA of Greensboro's seven branch locations that will provide personalized support and monthly nutrition education seminars.
To qualify for the YMCA's Blood Pressure Self-Monitoring Program, participants must be:
At least 18 years old

Diagnosed with high blood pressure

No experience with recent cardiac events

Does not have atrial fibrillation or other arrhythmias

Not be at risk for lymphedema
 "This program is an undiscovered gem as far as I am concerned. I am so glad that I participated ... everyone was so kind, encouraging, and positive. Please continue to provide this service. My doctor could not say enough about the manner in which I shared my blood pressure numbers and I was pleased to tell her that this program was instrumental in giving me the tools to do so. Thank you so much," anonymous program participant.
Program cost is $75 for YMCA members and $100 for potential members. Register before March 1 to receive half off the program fee. For more information about the program and registration, visit the YMCA of Greensboro website at ymcagreensboro.org/bloodpressure or contact Angela Rogers at angela.rogers@ymcagreensboro.org.
About the YMCA of Greensboro
The YMCA of Greensboro was founded in 1889 with a mission to put Judeo-Christian principles into practice through programs that build a healthy spirit, mind and body for all. Through its eight branches and YMCA Camp Weaver, the YMCA of Greensboro is strengthening the foundations of our community by offering a warm and friendly environment where people of all ages, races, faiths, beliefs and financial abilities participate in programs and experiences that make a positive difference in their lives. For more information on the YMCA of Greensboro, visit ymcagreensboro.org.