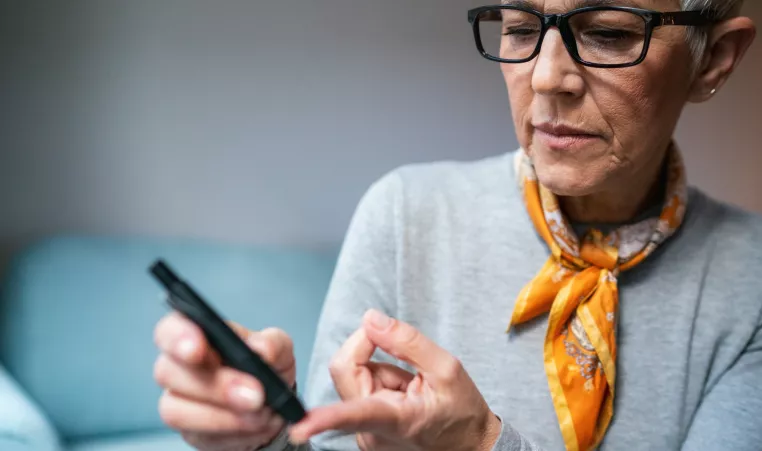 Greensboro, N.C., November 1, 2022 – November is National Diabetes Awareness Month and a time for all North Carolina residents to assess their risk for developing prediabetes or type 2 diabetes. More than 96 million adults in America have prediabetes, while eight in 10 people don't know they have prediabetes. What's more, in North Carolina, 166 adults develop diabetes each day, according to the Centers for Disease Control and Prevention (CDC).

Taking this short CDC Prediabetes Test can help North Carolinians understand their risk. While there is no cure for diabetes, prediabetes can be reversed.
The YMCA offers its Diabetes Prevention Program to help people with prediabetes lose weight, increase their physical activity, and eat healthier through this CDC-approved curriculum and a supportive, small group led by trained YMCA staff. The program helps people potentially prevent or delay the onset of type 2 diabetes.
The Y offers its Diabetes Prevention Program virtually statewide and in person at some North Carolina YMCAs, including the YMCA of Greensboro, to anyone eligible who has a physician referral. The Diabetes Prevention Program at the YMCA of Greensboro is free and open to the community.
"My experience with the Diabetes Prevention Program has been a life-changing journey. The most important lesson I've learned is that my health is in my own hands," according to a Y Diabetes Prevention Program participant in Wilmington, N.C. "I was able to develop better eating habits, and increasing my exercise made all the difference. I am proud to say I have the kept the weight off these past two years and my A1C is now down to 5.4 from 5.9. Without the program, I would not be as healthy as I am."
"When people find out they are at risk for diabetes, it can be hard for them to know how to make the changes needed to improve their health," said Angela Rogers, YMCA of Greensboro director of community health and wellness. "The Y's program provides a supportive environment, easy to understand lessons, and consistency to help people with prediabetes improve their health and reduce their risk for developing diabetes and other chronic diseases such as heart disease and stroke. Our participants form a bond with each other that helps them stay on track and helps them celebrate wins along the way as they improve their health."

Rogers noted that the Y offers additional evidence-based health programs, such as the Y's Blood Pressure Self-Monitoring Program, which some Medicaid insurers offer at no charge to their members who qualify.

For information about the Y's Diabetes Prevention Program and other health programs, visit the YMCA of Greensboro website.

About the YMCA of Greensboro
The YMCA of Greensboro was founded in 1889 with a mission to put Judeo-Christian principles into practice through programs that build a healthy spirit, mind and body for all. Through its eight branches and YMCA Camp Weaver, the YMCA of Greensboro is strengthening the foundations of our community by offering a warm and friendly environment where people of all ages, races, faiths, beliefs, and physical and financial abilities participate in programs and experiences that make a positive difference in their lives. For more information on the YMCA of Greensboro, visit ymcagreensboro.org.
About the YMCA and the NC Alliance of YMCAs
The YMCA is a leading nonprofit that collectively serves 1 million people statewide, including children, adults and seniors, through youth development, healthy living and social responsibility.
The North Carolina Alliance of YMCAs is a nonprofit corporation representing the 24 independent YMCA associations in the state. Its purpose is to build the capacity of all the state's YMCAs, foster collaboration on statewide initiatives through effective partnerships, advocate on behalf of the YMCA's mission and cause with elected officials and stakeholders at the local, state, and national levels; and coordinate communication to build consensus that ensures YMCAs are recognized as leaders in youth development, healthy living, and social responsibility. For more information, please visit ncymcas.org