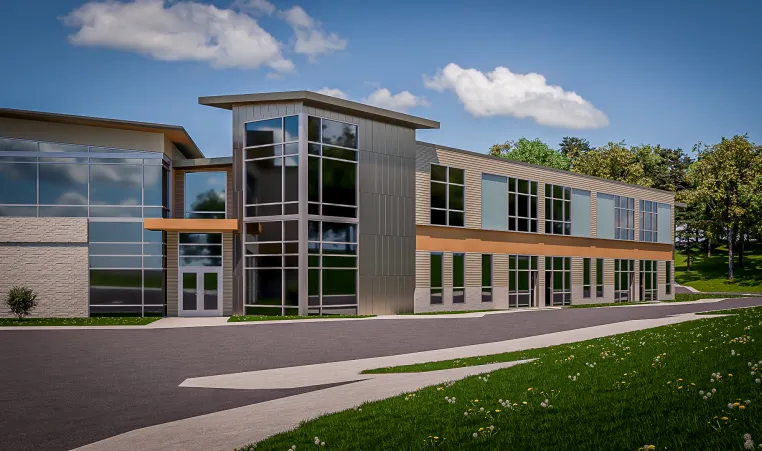 Greensboro, N.C., September 19, 2023 – Hayes-Taylor Memorial YMCA, a part of the YMCA of Greensboro association, announced today of its plans to expand its childcare facility to serve more children through afterschool and summer camp programs. The expansion will allow the Y to more than double the number of children served in its afterschool and summer camp programs by adding 100 children. The Y received funding from numerous resources, however, the project needs additional funds to complete the project due to rising costs of materials and labor.
The facility expansion will feature the addition of a second floor to the existing childcare wing that will provide four additional classrooms and a multi-generational meeting space. The project scope also includes the addition of a small office for the childcare director who is required by the State of North Carolina to be on the same floor as the children. The facility will feature two new stairways at either end of the hall and an elevator for accessibility.
Affordable, high-quality childcare is critical for working families and the Y's goal in the expansion is to meet the current gap and growing demand within the east Greensboro community, which serves a childcare desert. The multi-generational space will also allow for cross-generational programming in the evenings and weekends.
To address the needs in the community, the YMCA of Greensboro has secured $2.5 Million in funding from the City of Greensboro, Guilford County, the State of North Carolina and the US Federal Government through a HUD Community Project funds. The Y is now asking the community to help fund the last $1.1 million to fund the expansion project. 
To learn more about this project or to donate, visit ymcagreensboro.org/ht-expansion or call (336) 894-1252.
About Hayes-Taylor Memorial YMCA
The Hayes-Taylor Memorial YMCA has a rich history of being a staple in the Greensboro community. Its current location opened in 2015 after moving from a facility on the campus of North Carolina A&T. Since its inception in 1939, the Hayes-Taylor YMCA has served as a warm and welcoming gathering place in the East Greensboro community.
About the YMCA of Greensboro
The YMCA of Greensboro was founded in 1889 with a mission to put Judeo-Christian principles into practice through programs that build a healthy spirit, mind and body for all. Through its seven branches and YMCA Camp Weaver, the YMCA of Greensboro is strengthening the foundations of our community by offering a warm and friendly environment where people of all ages, races, faiths, beliefs, and physical and financial abilities participate in programs and experiences that make a positive difference in their lives.