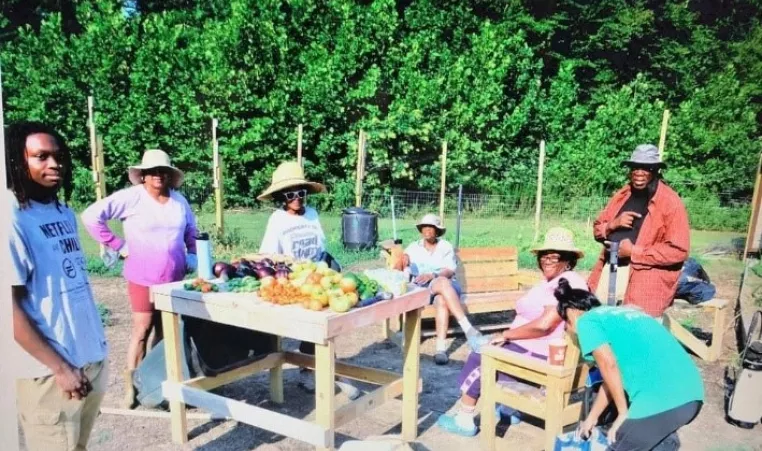 YMCAs and Partners Collaborate to Feed People in the Wake of COVID-19
Greensboro, N.C., February 16, 2022 – North Carolina YMCAs provided nearly 2.5 million meals to children, adults and seniors in 2021 to fight food insecurity in the wake of COVID-19. In addition, YMCAs donated more than 640,000 pounds of food, including 430,000+ pounds of fresh, healthy produce, to nourish those in need.
"The Y continues to serve people across the state who are struggling to put food on the table as a result of the pandemic," said Sherée Vodicka, CEO of the NC Alliance of YMCAs. "As a nonprofit, the Y is a critical community partner and resource; we have proudly worked alongside schools, city and county social service agencies, and other local organizations to meet the increased need in many different ways."
Many YMCAs served or delivered meals when schools were closed to in-person learning due to COVID-19, some became USDA food program sponsors or sites, and many expanded current efforts, including USDA programs, food recovery programs, and food drives and food distribution sites in their local communities to help fill gaps. Ys strengthened and developed new local partnerships and relied on dedicated volunteers and donors to support this community outreach. 

"Having access to food is foundational for children to learn and grow, for adults to perform well at work and to care for their families, and for seniors to maintain health and well-being," Vodicka said. "Access to nutritious food is critical to successful outcomes; the Y is committed to strengthening communities through this work."
According to Feeding America, one in five children and one in seven adults in North Carolina face hunger and 32% of seniors live in or near poverty levels; 26% of homes with children in North Carolina are food insecure.
Bright Spots: Just a Few Examples of the Y's Impact
The Rowan-Cabarrus YMCA donated nearly 10,500 pounds of fresh produce planted and grown by volunteers and staff in 2021 at its Share the Harvest Community Farm. "One of my most notable memories regarding the mission on the farm was when I delivered our produce to Operation Breadbasket right before Christmas 2020. They already had the distribution laid out. Plenty of calories with macaroni, ramen noodles, cornmeal, crackers, etc., but zero fresh vegetables until we got there. The cabbage with loads of vitamins, minerals and antioxidants made such a difference for the people picking up food the next day," said David Goforth, former farm manager and current volunteer.
 
The J. Smith Young YMCA in Lexington served more than 40,000 meals throughout 2021 as a sponsor for the USDA Summer Food Service Program (SFSP) and the Child and Adult Care Food Program (CACFP) and brought the Y to housing authority neighborhoods that are not within walking distance of the Y last summer through its Y on Wheels program. "We contacted the library, the police and fire departments and created a weekly schedule to bring food, a little bit of summer camp, the bookmobile, games, crafts and more," said CEO Jen Fuller-Allen. "We wanted to help feed folks and also bring the Y to the city and help foster positive relationships."
 
The YMCA of Western North Carolina's nutrition team runs multiple mobile markets in five counties every month, providing free food to all community members. The markets provide fresh produce paired with healthy recipes and activities, such as cooking demonstrations. "My dad and I have come to the Y's food truck twice a month and it has really benefitted us. It has helped us get our fruits and our vegetables, and it really cuts down on the grocery bill. We've shared the truck schedule with many friends. We thank the farmers and the grocery stores that are providing this. We're just grateful. We're eating good and staying healthy!" said one of the food recipients.
 
The YMCA of the Triangle operated three regional food hubs with county CARES Act funding to provide a network of 13 food hubs to provide boxed groceries, fresh and frozen meat, produce, eggs and canned goods twice a month to those in need. Plus the Y created the "Big Bus Food Truck" program in partnership with the local school district, county government and nonprofits to deliver school meals to children across Wake County who were not in school due to the pandemic. The partnership helped keep school cafeteria staff working; they boxed seven days' worth of prepared meals for each child. Then the Y buses distributed to 60 sites in the area. "We met a mom that drove to meet the bus every week to ensure that her children had meals for the following week. Each box included breakfast and lunch for an entire week. Every week when we pulled up, she was there waiting for us to pick up the box for her daughter," said Kim Keith, VP of Youth Development for the Triangle Y.  
 
The Gaston County Family YMCA delivered 1,700 meals during the summer every day at to four locations (apartment complexes and a mobile home community). "The lunch program was a great help to the community, especially the kids. It helped them feel less isolated during the shutdown and provided much needed meals. Even when a parent has SNAP, it isn't enough and the food isn't always healthy," said Martha Baker, the manager on site at one of the apartment complexes. "The Y also helped the kids form lasting relationships with their neighbors that they didn't realize were also classmates."
 
The Hayes-Taylor YMCA, part of the YMCA of Greensboro, and the Southeast Raleigh YMCA, part of YMCA of the Triangle, both are located in a food desert where there is no access to healthy food. "Many of the children go to school hungry every day, and in most families, the only nutritious meal they receive is in school," according to Larry Burnett at the Hayes-Taylor Y. So the Y has a variety of programs to help, including its Tower Garden. This aeroponic garden grows vegetables, herbs and fruit with water only – no dirt – and produces plants faster and with a 30% greater yield. The produce goes to grandparents in need who are caring for little ones in foster care.

Meanwhile in Raleigh, "COVID has hit hard in our zip code, so we opened a food hub at the Y to distribute food boxes. We were able to use government funds to engage our community, support our community and pay people who were otherwise looked over," said Erica Porter, Food Hub Coordinator for the Southeast Raleigh Y. "We supported Black farmers with this money, and it's been a game-changer for them. Before they hadn't been able to plan their season and buy supplies because they weren't white farmers and couldn't get credit in stores. We were able to contract with a few Black farmers and a Black grocer who supplies us with ground beef for the boxes."
According to the Food Research & Action Center, rates of food insufficiency at the end of 2021 were higher than they were over the summer, and Covid-19 has further amplified disparities by race, gender and ethnicity. The price of food has increased through the year, making it more challenging for more people to afford to eat.
To support the Y's work to continue nourishing those in need, please donate to your local Y. To learn more about the Y's COVID-19 response and impact in North Carolina, visit https://www.ncymcaalliance.org/impact.
About the NC Alliance of YMCAs
The YMCA is a nonprofit community benefit organization that collectively serves 1 million people statewide, including children, adults and seniors. The North Carolina Alliance of YMCAs is a nonprofit corporation representing the 25 independent YMCA associations in the state. Its purpose is to build the capacity of all the state's YMCAs, foster collaboration on statewide initiatives through effective partnerships, advocate on behalf of the YMCA's mission and cause with elected officials and stakeholders at the local, state, and national levels; and coordinate communication to build consensus that ensures YMCAs are recognized as leaders in youth development, healthy living, and social responsibility. For more information, please visit NCYMCAAlliance.org
###