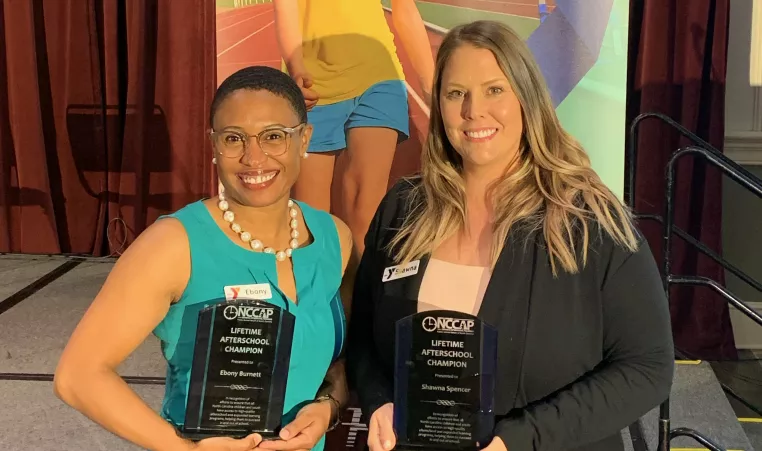 Greensboro, N.C., April 21, 2022 – YMCA of Greensboro announced that two of its youth development employees, Ebony Burnett and Shawna Spencer, were named Lifetime Afterschool Champions that honor those who have dedicated more than ten years of service to youth and were recognized for their achievement today at the 2022 Lifetime Afterschool Champions through the NC Center for Afterschool Programs.
"We couldn't be prouder of Ebony and Shawna," said YMCA of Greensboro President and CEO Rhonda Anderson. "Ebony and Shawna are true advocates for the youth in our community. They aim to continue to develop our programs and question the status quo by creating innovative ways to connect with kids and enhance their learning experience."
The NC Center for Afterschool Programs recognizes individuals, programs and organizations that have demonstrated outstanding work in developing, supporting and promoting high-quality afterschool and out-of-school time programs to benefit youth and families statewide. Burnett and Spencer individually develop and enhance the YMCA youth development programs throughout the YMCA's seven local branches.
Burnett, YMCA of Greensboro senior association youth development director, has served Guilford County in a variety of capacities throughout her career. With 20 years of experience in the afterschool and child development field, the North Carolina Agricultural and Technical State University alumna has positioned herself as an advocate for children and an expert in developing young staff to find their full potential.
"My greatest accomplishment has been the growth and development of the youth leaders and the youth that I am able to serve each day," said Burnett. "I enjoy coaching timid college students in classroom management, personal development and emotional intelligence. It is wonderful watching youth leaders thrive and become strong and confident elementary, middle and high school classroom leaders and school administrators."
Spencer, Mary Perry Ragsdale Family YMCA youth development director and University of North Carolina at Greensboro alumna, joined the YMCA of Greensboro in 2006. In her time with the Y she has facilitated engaging and innovative programming for youth through afterschool, summer day camp, family and community outreach at the Ragsdale Family YMCA located in Jamestown.
"My greatest blessing of working within youth development is having the ability to be a part of a young person's personal growth and bearing witness to their life achievements," said Spencer. "Being an integral part of a child's life from kindergarten through adulthood is a unique experience only a position like this could offer. This drives everything we do at the Y, and we use this as motivation as we continue to bring up new leaders who will continue the Y's mission."
"This award is well-deserved, and I would like to thank Ebony and Shawna for their years of hard work and dedication to the community and youth," said Anderson.
About the YMCA of Greensboro
The YMCA of Greensboro was founded in 1889 with a mission to put Judeo-Christian principles into practice through programs that build a healthy spirit, mind and body for all. Through its eight branches and YMCA Camp Weaver, the YMCA of Greensboro is strengthening the foundations of our community by offering a warm and friendly environment where people of all ages, races, faiths, beliefs, and physical and financial abilities participate in programs and experiences that make a positive difference in their lives. For more information on the YMCA of Greensboro, visit ymcagreensboro.org.