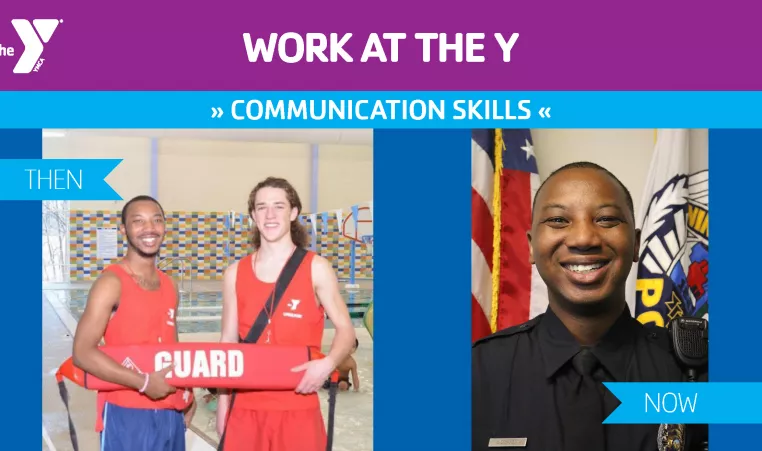 Greensboro, N.C., March 28, 2022 – Working at the YMCA as a camp counselor or lifeguard provides teens and young adults with key career-building skills that they can take anywhere as they prepare for college or their careers. The skills young Y staff learn, demonstrate and master translate to multiple situations and work environments that are on par with and often more valuable than an office internship.
As an organization invested in youth development, the YMCA provides training and mentorship that gives young leaders opportunities to develop life-long skills such as:  
Leadership

Teamwork and Collaboration

Problem-solving and Creativity

Communications and Public Speaking

Time Management

Responsibility and Accountability

Organization and Planning

Emergency Preparedness

Negotiations

Teaching and Mentoring
Former teen and young adult staff often call on skills developed during their summer Y job. "I began lifeguarding at the YMCA when I was in college at 18. I was able to grow my communication skills through teaching," said former YMCA of Greensboro lifeguard and current Winston-Salem police officer and photography business owner, Charles Davis. "I had to learn to communicate with people of all walks of life, from children to seniors, so they could learn to swim."
The current Executive Director of the Bryan Family YMCA, Lesley Watts, shares the same testament as Davis. She recalled learning and honing several skills while working at the Y as a lifeguard throughout college. "When I think about my early days at the Y as a lifeguard, I think about the 4Cs — critical thinking, creativity, collaboration, and communication. Those skills were so important to get an idea across to someone when teaching or lifeguarding, and certainly communication. There's no gray area when it comes to the rules and safety when you're lifeguarding. And collaborating – working with others and the public," said Watts.
"Camp counselors and lifeguards are truly masters at logistics and planning, facilitation, communication and relationship-building," said Rhonda Anderson, YMCA of Greensboro CEO and president. "Between their YMCA training and on-the-job experience, young people learn how to communicate clearly with peers and others, adapt to challenges quickly, manage relationships with people of diverse backgrounds, and practice conflict resolution with respect and positivity on a regular basis."
YMCA of Greensboro is currently hiring day camp counselors, resident camp counselors, lifeguards, swim lesson instructors and childcare teachers. All part-time employees receive a YMCA membership, discounts on Y programming, retirement plan eligibility and will make a positive impact on the community. From serving people from all walks of life to building critical skills to apply to future careers whether at the YMCA or elsewhere, the YMCA provides employees an opportunity and environment for each person to thrive.
"If you are considering becoming a lifeguard, make the decision now. You are needed and you will make a difference," said Davis.
Learn more and apply for open positions at the YMCA of Greensboro by visiting ygsocareers.org.
About the YMCA
The Y is one of the nation's leading nonprofits strengthening communities through youth development, healthy living, and social responsibility. The YMCA of Greensboro serves more than 15,000 children, adults and seniors to help nurture the potential of children and teens, improve the nation's health and well-being, and provide opportunities to give back and support neighbors. For more information, visit ymcagreensboro.org.