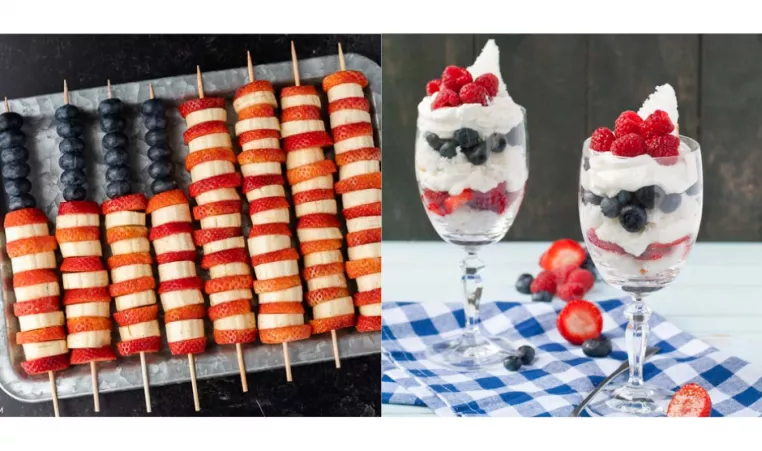 Summer is finally here and with it comes endless snack possibilities for the kids to enjoy after a long day of play. YMCA Camp Weaver's beloved chef "Uncle Ray" recommends these easy and healthy recipes to enjoy on the Fourth of July. These are fun snack ideas you could easily recreate with the little ones. Cooking with your child is not only a great bonding experience but also a great way to practice cooking safety skills. From knife safety to cutting techniques, there are many things a child could learn by making the following recipes. This summer, add cooking to your fun summer activities list!
Fourth of July Fruit Kabobs
These American flag-shaped fruit kabobs will be the star of any Fourth of July cookout! 
Ingredients:
Blueberries

Strawberries or raspberries

Bananas or marshmallows 

A package of wooden skewers

A rectangular platter to lay the skewers and make the flag shape
How to make:
For the first three to four kabobs, add blueberries to the top of the skewer to look like the blue part of our American flag. Then alternate adding the banana and strawberries to simulate the stripes on the American flag.

Once you complete that side of the "flag", continue adding just strawberries and bananas alternated to the skewers to complete the flag shape. 

Repeat until the rectangular platter is full and the skewers mimic the American flag.
You can also put these in the freezer a few minutes before serving for an extra cold snack or dip them in chocolate or yogurt before eating!
Red, White and Blue Berry Angel Food Cake
This super easy snack idea also doubles as a dessert!
Ingredients:
Raspberries

Strawberries

Blueberries

Cool Whip or Fresh Whipped Cream

Angel Food Cake, torn or chopped into bite-sized pieces

Individual glasses or large trifle bowl
How to make:
In individual glasses or a large trifle bowl, layer torn angel food cake, berries, and whipped cream, then repeat. Feel free to mix it up if you'd like!

Store in the fridge until ready to serve. Serve within 2 days.
For an even healthier version of this recipe, substitute the angel food cake and whipped cream with sugar-free alternatives. 
We hope that these recipes inspired you to connect with your family and friends by creating one of these healthy snacks. If you recreate these recipes at home, take a photo and tag us on our social media! 
We wish you, your family and friends a Happy Fourth of July!


References:
1. 4th of July Fruit Kabos | Eating on a Dime - https://bit.ly/2XmveI8
2. Fourth of July Berrie Angel Food Cake Parfait | Neighbor Food - https://bit.ly/3xKrL5I
Published on June 28, 2022